There seems to be plenty of Kimchi Pasta recipes out there with tons of dairy and meat, but I haven't see much with just a clean kimchi base pasta?? So here I go creating another fusion in my kitchen!! I wanted to preserve the true flavor of my vegan kimchi at the same time enjoy it with some fresh cut noodles! This combination ended being the perfect solution! This dish is dairy free but still have tons of flavor and pungency, and when paired with the fresh chewy ribbon noodles, it's definitely worth slurping all the way!!
discovering chinese noodles
Recently I visited a Chinese grocery store called Ranch 99 for the first time. I didn't see any other Koreans in site, but nevertheless, I was on a mission to find the good noods. The noodle aisle was filled with dry noodles from low to high. I looked like a confused tourist looking lost. The selection was quite massive and impressive. I wasn't sure if they were all the same type of noodles or just different brands. Anyhow, I got to work and tried to figure out the pattern on how each noodle was separated per style and design. There were certain noodles I was hunting for, which was the ribbon noodles and the ramen curly noodles. I was proud to find them, even without being able to read the Chinese characters. lol.
what are ribbon noodles
Apparently there are many dried Chinese noodles readily available in Chinese grocery market. As a Korean descent, I am not at all familiar with these noodles, and recently have discovered them myself! Once you start trying these noodles, you will get hooked. The noodles used for this dish is called 'ribbon noodles' due to their appearance of the flatness in the middle and slightly filly edges. I find them very fascinating and make the eating time more enjoyable. My kids can attest to this. Texture wise, they seemed to be more chewy than spaghetti noodles and thinner than fettuccini noodles. These noodles are extremely long and didn't break easily either. I am glad I was able to discover some new type of noodles and looking forward to making more fun and tasty dishes with them!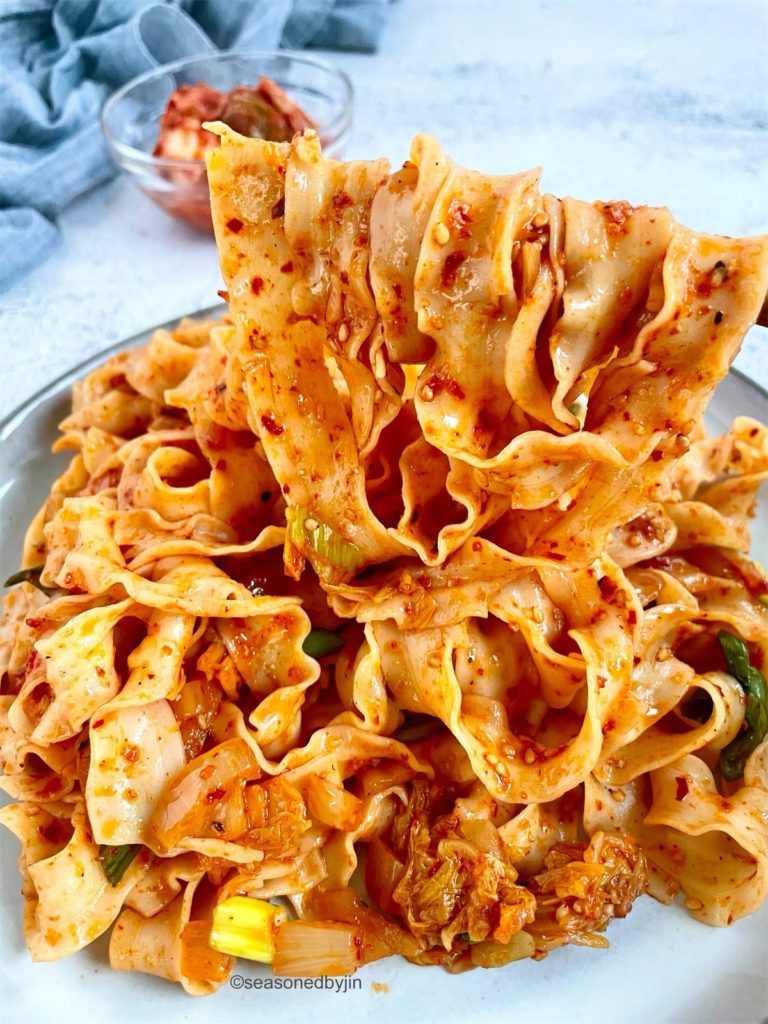 Give this dish a try if you are looking for a spicy, flavorful noodles dish that's sure to give you a nice kick while keeping it clean and refreshing!!
you may also like:
recommended products: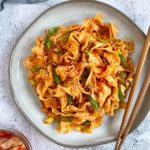 Print Recipe
Stir Fried Kimchi with Ribbon Noodles
Enjoy the true flavor of napa cabbage kimchi with some fresh cut noodles! This combination is a perfect solution to a noodle dish with tons of flavor and pungency while being dairy free!! It's definitely worth slurping all the way!!
Ingredients
¼

cup

onion

finely diced

1

garlic

minced

⅓

cup

fermented kimchi, firmly packed

finely diced

6

Tbsp

kimchi brine

divided

1

pinch

sea salt

1

pinch

black pepper

1

stalk

scallion

chopped

⅓

cup

dashi stock or water

1

Tbsp

Guk Ganjang/Soup Soy Sauce

1

Tbsp

sesame oil

1

Tbsp

neutral oil

1

pinch

sesame seeds
Instructions
Boil 2 servings of ribbon noodles for 5min, Rinse well, drain and set aside. Cover with cotton cloth.

Chop all the ingredients and set aside.

Heat a nonstick skillet to medium high heat. Add 1 Tbsp oil and add garlic and white part of scallion only. Stir fry for about 1min or until fragrant.

Add onion, kimchi, sesame oil and stir fry for about 3min. add pinch of salt and pepper.

Add dashi stock, 3 Tbsp of brine and soup soy sauce. Once the stock bubbles, add the noodles and mix well. Lower heat and simmer until the liquid is almost absorbed. Turn off heat, add rest of the brine. Garnish with scallion, sesame seeds. Salt to taste.
Share on Facebook
Pin Recipe
Notes
***For vegan option, use vegan kimchi and water instead of dashi stock.