You will be amazed how this Korean Vegan Kimchi is full of delicious natural flavors and textures! And the best part is, you don't need fish or fish sauce! Follow this magic recipe today!
why this recipe works:
Vegan kimchi in general has more of a clean and fresh taste overall. Allowing it to pair well with many dishes, without being too offensive. Believe it or not, vegan kimchi actually lasts longer and fresher in the fridge. It's definitely not as pungent in my opinion.
really? "funky kimchi"
Interesting tip: when you add fish sauce/extract/broth to your kimchi, it will change the texture and flavor of the kimchi more drastically over time. That's where you get that deep, pungent flavors. Some people like it and some not as much. And that is exactly why everyone's kimchi is different. But please don't call kimchi "funky". I don't think there's anything funky about kimchi flavors. It definitely has complex flavors once fermented, but that is the beauty of kimchi. And again, if you don't like the pungency, just make vegan kimchi instead!
what is Korean kimchi?
Kimchi is an authentic Korean dish that is very unique in its flavor and taste. Kimchi is a perfect example of a classic dish that represents Korea. Not to mention it's artful way of fermentation and preservation–all so very well thought out. I am so thankful for my ancestors, from thousands of years ago, who had a mastermind of creating such an amazing dish, that we can all enjoy and benefit to this day!!
According to many Korean elders I have talked to, there are over 300 different kinds of kimchi in Korea!! Napa Cabbage Kimchi happens to be one of them and still one of the most poular kimchi around the world. Another amazing part about kimchi in Korea is that no household makes it the same way! Meaning the seasonings vary and the brining method is different. Nevertheless, kimchi must be made with care and patience to reap its delicious flavors.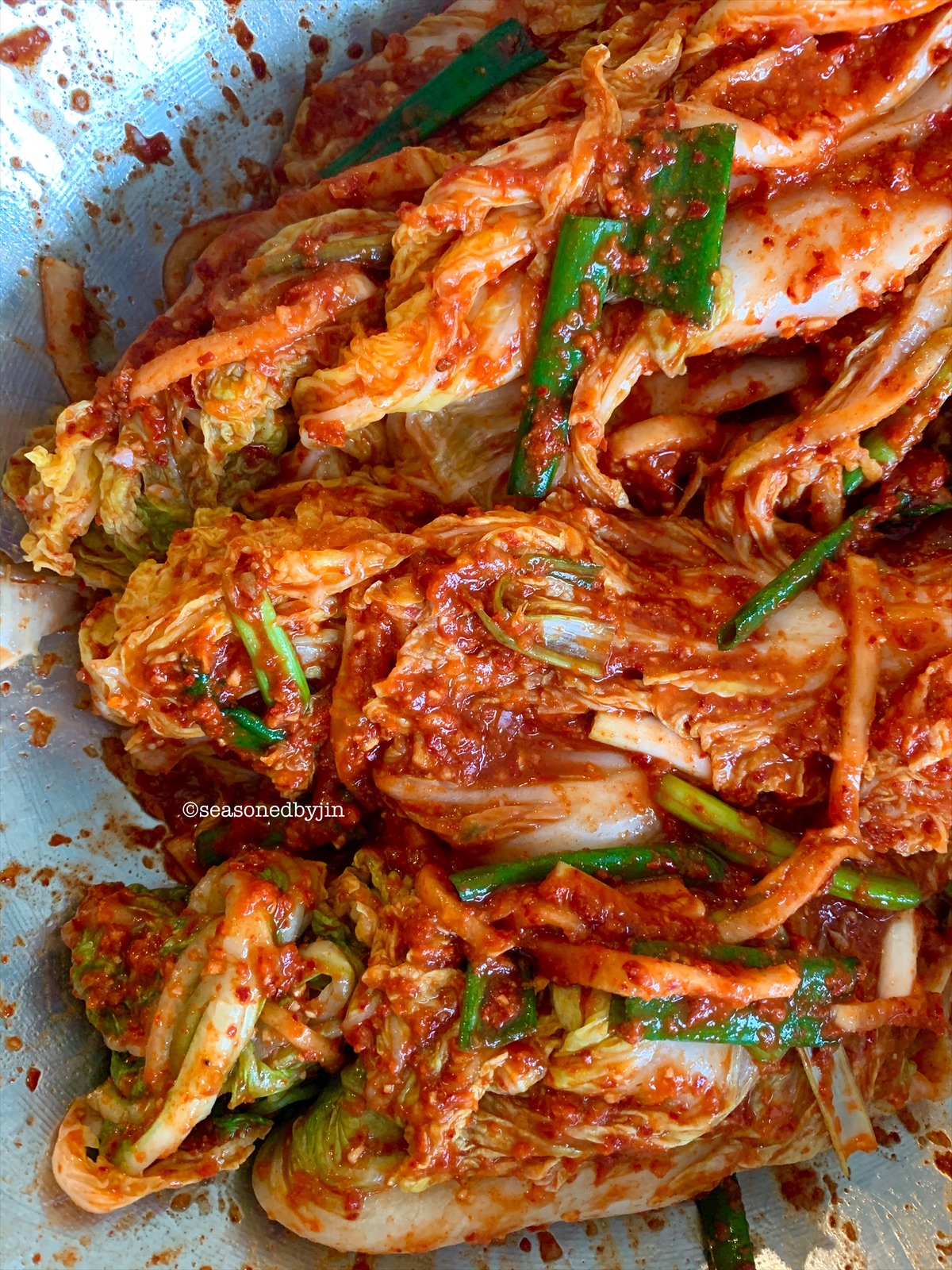 my kimchi making journey
My Kimchi making journey was not as smooth as I had expected. Perhaps I was being an impatient learner? Or maybe because I had a high expectation of myself since I was a Korean? Then, it hit me. I was never taught the basics of making kimchi, not even once, by my parents nor by my grandmother. It was normal for me to have more fails than successes. My kimchi was not popular at dinner table. Many went into soups and fried rice dishes. It was frustrating, but I didn't stop, and I persisted. I had a mission to accomplish: to make the best vegan kimchi ever!! Today I am happy and proud to say that not giving up was the best thing I did for myself, and learned that failure can lead to success. LOL. Eventually, I was able to create one of the most delicious kimchi I have tasted thus far! i am so excited to share my recipe with you today!! Cheers to my Vegan Kimchi!!
why did i get into making homemade kimchi?
I decided to make my own Kimchi, first, when I realized that the store bought kimchi was not meeting my expectations in taste. Second, I didn't like the ongoing increase in price of kimchi. This probably didn't happen all of a sudden, but a gradual change over time in the industry. I also wasn't reacting well to certain ingredients from the store bought kimchi, either from the fish sauce or the shrimp jeot, I am not sure exactily. Don't get me wrong, I personally love seafood, but I can only consume fresh ones. Otherwise, I will be in trouble, yes I will get puffy and cranky. LOL. And so that's my take on how my kimchi making journey started for me… and now I can't go back!!
is vegan kimchi different?
If you think about it, other than the fish sauce and seafood ingredients used in the seasonings, kimchi is pretty much all vegetables and fruits. So for this recipe, I have used the boiled kelp broth to provide the deep flavor, instead of seafood. Flavorwise, it's just as yummy!! And even after fermentation, everything still tastes very fresh and clean!!
how to make vegan napa cabbage kimchi
First, you need to prep, cut and brine the cabbage for 6-8 hours, and radish chunks for 1 hour. Please refer to this post: How to Brine a Whole Napa Cabbage. It will have all the tips and tricks on how to brine a whole napa cabbage successfully. While the cabbage is brining, come back to this post to make the Kimchi seasoning paste.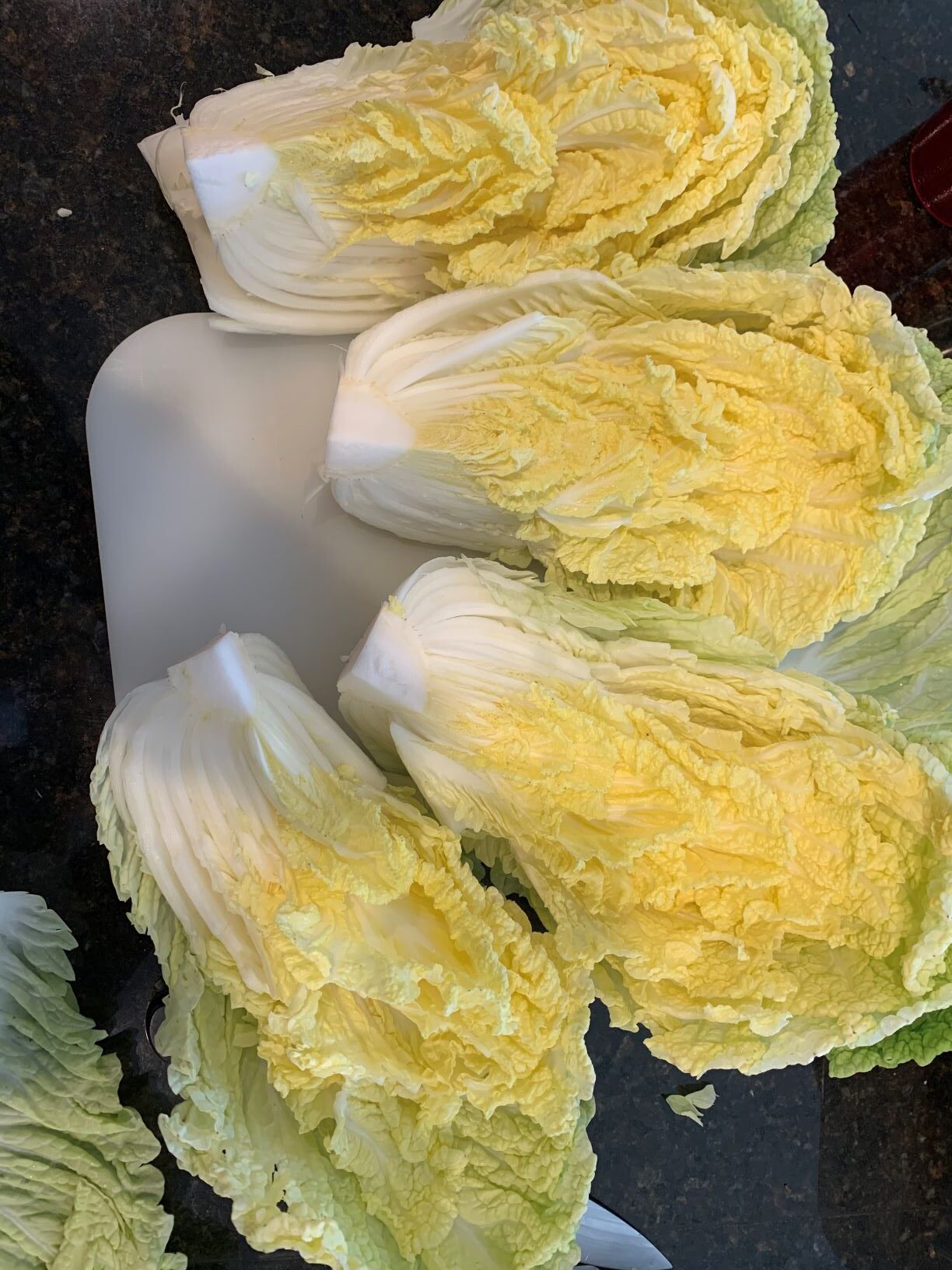 Second, make the Vegan sauce in a small saucepan. Bring water to boil and add 3″x6″ dried kelp with 4 cups of water, simmer for 15 min, without lid. Discard kelp and lower the heat. While stirring, add the sweet rice slurry into the pot, then add salt and sugar, Stir until the sauce is thickened. Turn off heat and let it cool.
Third, prepare the fruit, vegetable, and aromatic mixture. Add the chopped Asian pear, onion, red serano pepper, garlic, ginger into a food processor and blend together. (This mixture can range from chunky texture to smooth fine texture, it's really up to you.) Set aside.
Fourth, prep the veggies. Julienne the Korean radish and chop the scallions. Set aside. (If big radish chunks are going to be added to the kimchi, see instruction on how to brine by clicking here.)
Fifth, into a big bowl, add red chili flakes, vegetable/fruit mixture, 2 tsp of fine sea salt and cooled vegan sauce. Mix well. Then throw in the julienned radish and scallions. Stir until everyting has been blended well. Using a glove is adviced when mixing with hands.
Sixth, take the brined cabbage onto a surface and working from the outer layer leaf first, apply the kimchi sauce and work it into the cabbage, one leaf at a time. Making sure to pay attention near the core of the cabbage (the white part). Repeat until all the sauce is used. If using big chopped radishes, rub some seasoning on them as well. Place seasoned kimchi into containers with secure lids.
Congratulations! your vegan kimchi is ready for fermentation!
Don't these look amazing and just mouthwatering?? Seriously, if you have gotten to this point, you really need a pat on your back!! You have succeeded in making your first homemade kimchi!! But just think, in about a week, you will be able to taste one of the most amazing vegan kimchi you have ever tasted!! It's going to be so worth it!! So please be patient!! You can certainly eat this kimchi on the day you have made it, but the deep flavor will come after it starts to ferment! I recommend leaving the kimchi container in room temperature for 2-3 days. Then let some air into the container and close tight again. Keep in fridge for about 5 days and then start consuming!! They will taste better after 2 weeks, but I actually like to eat mine early.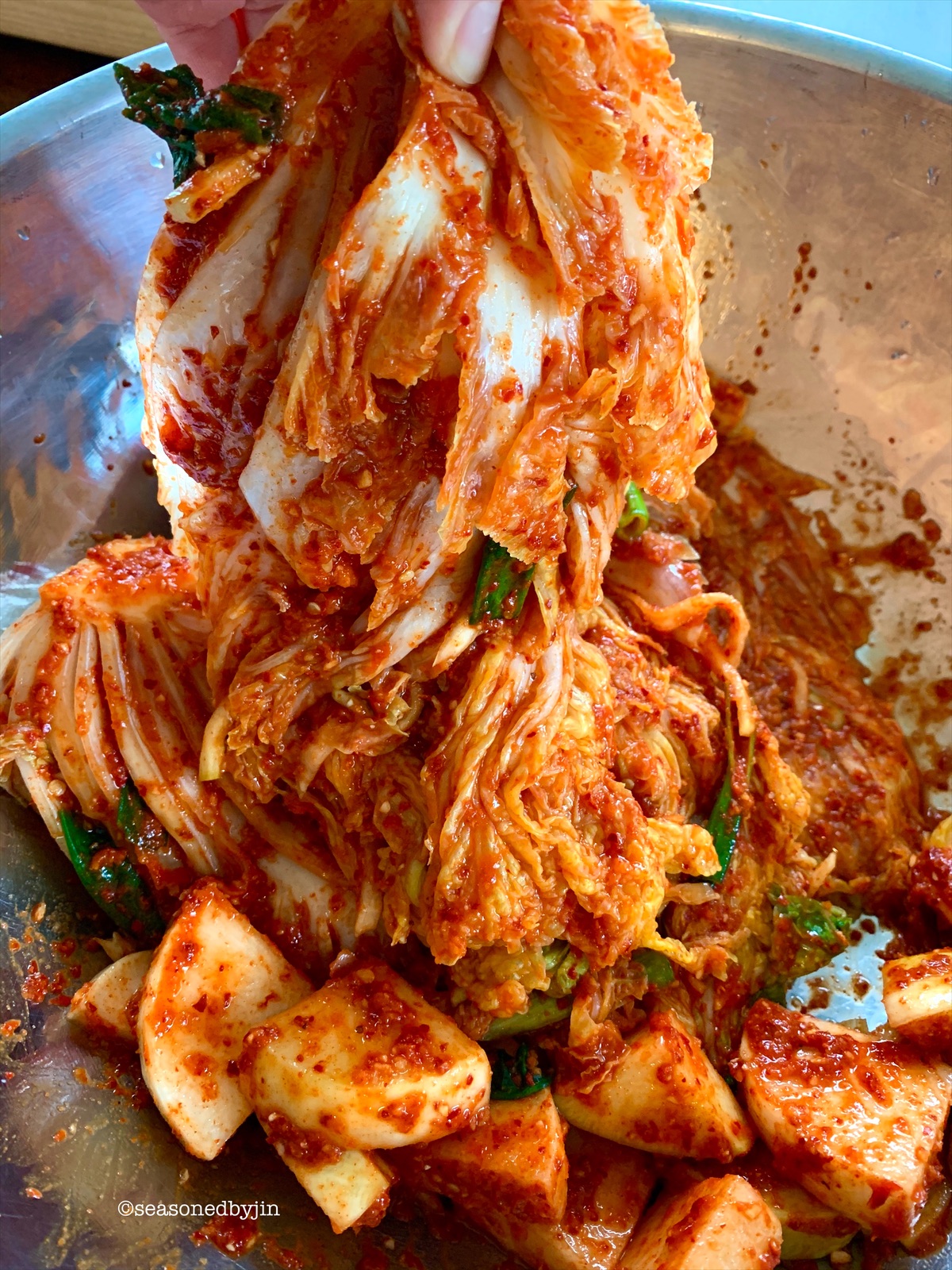 how should i store my vegan kimchi?
You can store kimchi in any container with a tight lid. I have a glass jar I use sometimes, but lately I have been enjoying a kimchi container I purchased from Hmart. It's a rectangular shape and you can put alot in there actually. Since the lid is a snap on and off type, it's easy for me to take the kimchi out too. It also comes with a handle on top of the lid for ease of carrying. Lastly, this rectangle shape allows for easy stacking in the fridge.
How do i maintain the freshness of kimchi?
Keep it inside the fridge and maintain a steady temperature.
Keep it inside a tight lid container
Don't contaminate, take out what you need and close the lid back asap.
Once fermented, dont leave it sitting around in room temperature.
did you enjoy this recipe?
Be sure to check out more recipe below!
Print Recipe
Korean Vegan Kimchi, Baechu Pogi Kimchi
Vegan Napa Cabbage Kimchi
Ingredients
10

lb

Korean napa cabbage

2-5lb cabbages

1

lb

Korean radish

1/2 chopped into big chunks, 1/2 julienned

4

cup

filtered water

1

3"x6"

dry kelp

3

tbsp

sweet rice flour (mochiko)

4

tbsp

water

mix with sweet rice flour to make slurry

3

tsp

fine sea salt

add to kelp water

2½

tsp

white sugar

add to kelp water

2

Serrano pepper

chopped

14

cloves

garlic

freshly peeled

½

Asian pear

chopped

1

ginger

thumb size, sliced

½

onion, medium size

chopped

1½

cup

Korean red chili pepper flakes

coarse

2

tsp

fine sea salt

10

scallions

chopped,1" long
Instructions
Prep, cut and brine napa cabbage for 6-8 hours and radish big chunks for 1 hour.

Make the Vegan Sauce. Bring 4 cups of water to boil and add dry kelp. Simmer for 15min without lid. Discard kelp and lower heat. Make the slurry: mix sweet rice powder with water and stir well. Pour this slurry into the kelp water and stir until thickened. Add 3 tsp salt and 2½ tsp sugar and stir well. Turn off heat and let it cool.

Prepare the fruit, vegetable and aromatic mixture. Add chopped pear, onion, serano pepper, garlic, ginger into a food processor and blend until desired consistancy. Set aside.

Julienne the radish and chop the scallions. Set aside.

Into a big bowl, add the vegan sauce, the fruit/vegetable mixture, red pepper flakes, and 2 tsp of fine sea salt. Mix well. Toss in the julienned radish and scallions. Mix well with gloved hands.

Bring the brined cabbage onto a surface and working from the outer layer leaf first, add the mixed seasoning in a gentle rubbing motion. Paying attention to the white cabbage parts. Repeat until all the leaves have been treated with seasoning. Use all prepared seasonings. Also rub some seasoning on the big radish chunks. Fold each cabbage in half and place them in the prepared container, including the big radish chunks. The core of the cabbage should be facing downward.

Leave at room temperature for 2-3 days. Let air in and close the lid tight again. Keep it in the fridge and consume 5-7 days later. Keep kimchi in the fridge to maintain it's freshness.
Share on Facebook
Pin Recipe
Notes
This recipe was prepared for 2 napa cabbages of 5 lbs each. If using only one cabbage, half the recipe please. 
recent posts: