1/13/2021
This post is a paid partnership with Ka-me. All contents and opinions are my own. post may contain affiliate links.
Korean Bulgogi is one of the popular dishes at our place. What is Bulgogi you might ask? It's a tasty meat dish that's made from thinly sliced beef that gets marinated in sweet bulgogi sauce. Next, grilled/barbequed until golden brown and typically paired with veggies and rice. It's considered a Korean main dish, but can also be incorporated into other dishes such as bibimbap, kimbap, hot pot and much more. Today I decided to create something different and go a little fusion, but still keep the traditional flavors! This Bulgogi Soba Noodle Soup is a simple dish but a very tasty one, loaded with a lot of flavor and texture! A homemade meal that will leave you satisfied from the savory broth, healthy soba noodles, topped with delicious Bulgogi and veggie toppings!! Let's get started, shall we??
what are the main ingridients needed for this dish?
Bulgogi meat, thinly sliced beef (available in Asian grocery stores)
Veggies of your choice, but I recommend carrot, onion and mushroom, and spinach since they pair well with bulgogi flavors.
Fresh garlic, scallion, soba noodles and stock broth of your choice.
Asian condiments: soy sauce, sesame oil, rice wine, and sesame seeds.
What are some tips and tricks for this dish?
To speed up the cooking time, cut and prep all the veggies and set aside.
Cut the meat into bite size pieces, marinate and let it rest for 10-15min.
Have the serving bowls ready to go.
Boil the soba noodles in medium heat. Rinse in cold water and let it drain as you cook the meat and the broth.
The cooking time for soba noodle is also shorter than regular pasta, be sure to follow the package instructions. Also, need to keep an eye on the noodles and stir often to prevent from sticking.
You can use the stock broth of your choice. For this recipe I used low sodium chicken broth, but beef or vegetable broth will also work.
how should i season the meat?
I created a simple but tasty bulgogi sauce for the meat. I used some of the sauce to marinate the meat and poured the rest after the meat has been cooked. This gave it a nice glaze at the end. You can even save a little for dipping sauce or drizzle it right before serving! This also kept my soup clean and fresh looking. I used a mix of KA-ME Sesame Oil, KA-ME Rice Vinegar, Korean Soy sauce and fresh minced garlic in the meat marinade. These basic seasonings really brought out the flavors in the meat! There's something about quality sesame oil and KA-ME really delivered it!!
why do you stir fry the scallion and garlic for the broth?
This method is very popular for asian cuisines. Stir frying the chopped scallions and the bruised whole garlic will allow stronger aroma and enhance the overall flavoring of the broth. I used KA-ME Stir Fry Oil which helped bring out the flavors of the garlic and scallions to the fullest! I was quite pleased with the KA-Me Stir Fry Oil, which had a wonderful aroma of ginger and Asian herbs!
why are the ingredients cooked separately?
For this soup, the broth is boiled separately, then poured on top of the precooked noodle. This ensures the texture of the noodle to stay as fresh as possible while retaining the freshness of soba noodles. The toppings are also prepared separately; pan fried with the yummy homemade bulgogi sauce, giving it a unique delicious flavoring!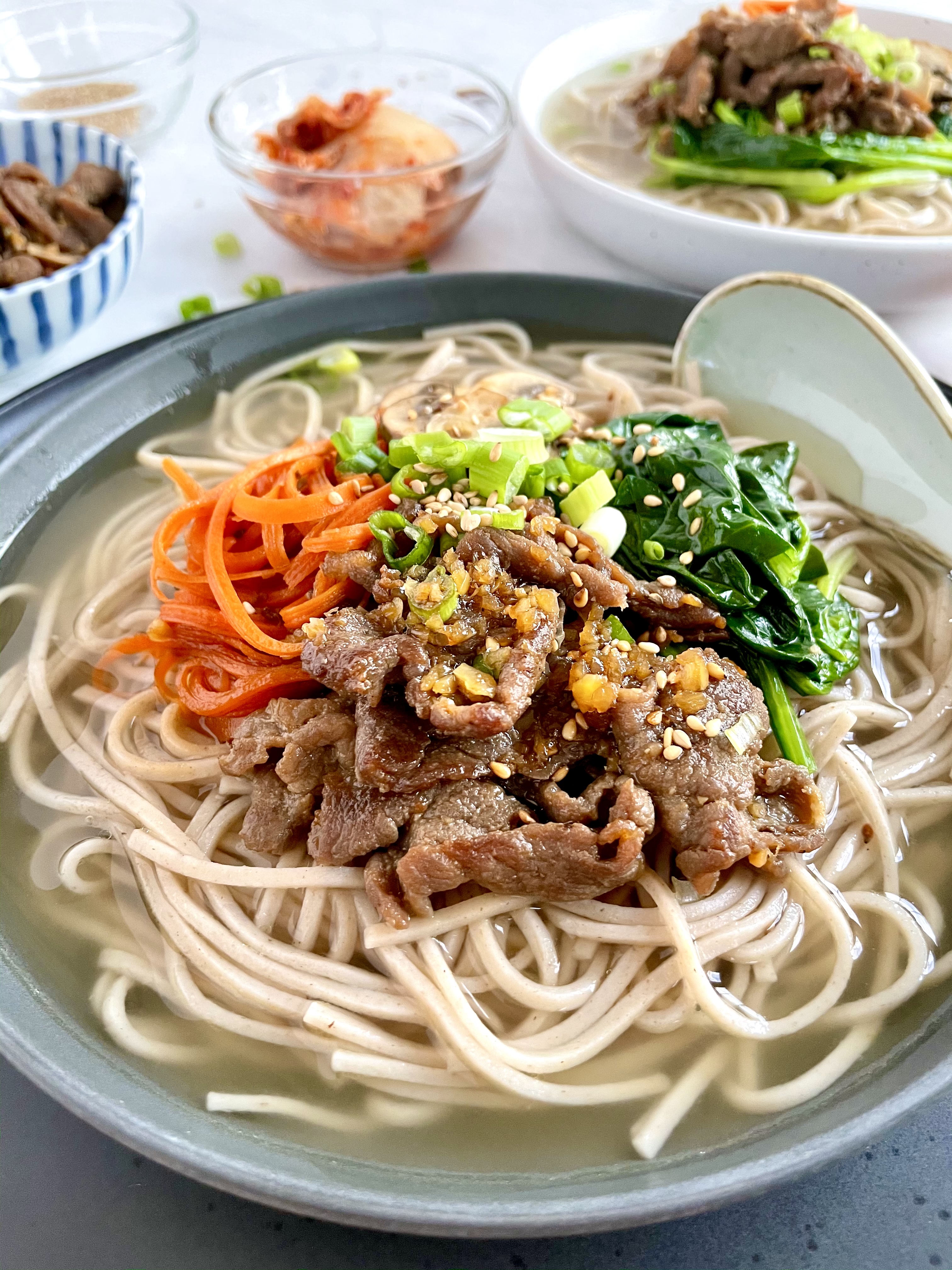 why should I use soba noodle?
I really enjoyed pairing this dish with soba Noodles. Soba means "buckwheat" and is a healthy alternative to classic wheat pasta, with lower calories and gluten. I also like how soba noodles have that subtle earthy (nutty) taste about it. I personally love soba, so Ka-Me noodles were a winner for me!!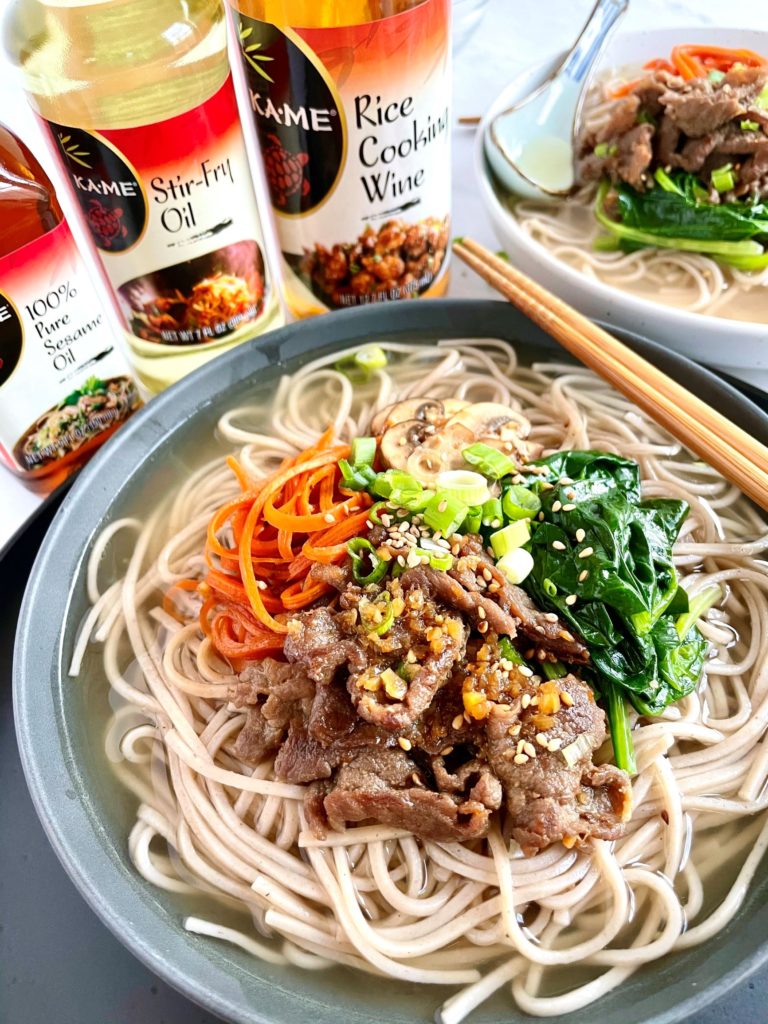 Wanna try making this dish?
Give this dish a try and you will taste the difference! It's a simple dish that's delightful, nourishing and healthy!!! If you like this recipe and want to know more about the ingredients used for this dish, please visit www.kame.com The Key to Asian Made Easy. KA-ME brand recently celebrated their 50th year anniversary! They are your one stop shop for your Asian style meal needs! Wanna try them out? Find them near you using the store locator. You can also click on each ingredients below for more details.
What can i pair this dish with?
Kimchi is a great side dish with bulgogi noodle soup, check out my Vegan Kimchi Recipe.
Kimchi Jeons are great mini pancakes to try with this dish as well!
If you like marinated eggs, they would go super yummy with this dish, Check out my Mayak Gyeran Recipe!!
did you love it?
Have you tried this recipe and loved it? Tag me on Instagram, would love to see your creation!! Click here for my Instagram page.
Print Recipe
Bulgogi Soba Noodle Soup
This Bulgogi Soba Noodle Soup is a simple but tasty dish made with savory broth and healthy soba noodles, then topped with pan fried Bulgogi and fresh veggies.
Ingredients
6

oz

bulgogi meat (rib eye)

thinly sliced beef meat

2

whole

bella mushroom

2-3

bunch

spinach, fresh

½

carrot, medium

½

bag

KA-ME Soba Noodles

13

oz

low sodium chicken broth

2

clove

garlic, bruised

push down with back of knife to make it flat

2

stalk

scallions, divided

white part for the broth, green part for marinade and final topping

1~2

Tbsp

KA-ME Stir Fry OIl

divided
Meat Marinade
1½

tsp

minced garlic

2

Tbsp

Korean soy sauce

3

tsp

sugar

1

Tbsp

KA-ME Rice Vinegar

⅛

tsp

black pepper

½

Tbsp

scallion, chopped

2

Tbsp

water

½

Tbsp

KA-ME 100% Sesame Oil
Instructions
Make bulgogi marinade. Combine all the ingredients in a bowl and set it aside.

Cut bulgogi meat into bite size pieces. Add 3 Tbsp of bulgogi marinade into the meat. Toss and set aside. Reserve sauce for later.

Chop all the veggies and aromatics and set aside.

Boil noodles per package instructions. Rinse and drain on strainer. Have serving bowls ready to go.

Heat a skillet, once hot, add ½~1Tbsp of KA-ME Stir Fry Oil and bulgogi meat. Cook meat until done and push to one side. Add mushroom, carrot and stir fry for 1min. Drizzle 2-3Tbsp of bulgogi marinade on the veggies and stir fry for 1 more min. Turn off heat, sprinkle with sesame seeds and set the pan away from heat.

In a sauce pan, add ½ Tbsp KA-ME Stir Fry Oil and stir fry white part of scallion and bruised whole garlic until fragrant, stirring. Pour chicken stock into the sauce pan and bring to boil. Season to taste and add spinach. Give it a stir, after 30 seconds turn off heat. Discard the aromatics.

Arrange the noodles in a soup bowl. Place the bulgogi, carrots, mushroom and spinach on top of the noodle. Ladle the broth into the soup bowl. Sprinkle with chopped scallions and sesame seeds and remainder of the bulgogi marinade. Serve hot!
Share on Facebook
Pin Recipe