9/2/2020
Most people have heard of Sundubu Jjigae, but have you heard of Haemul Sunbudu Jjigae? They are loaded with seafood, vegetables and extra soft tofu. Elevated by the house made spicy paste; will leave you satisfied with a wonderful harmony in your mouth! And don't forget to serve with a bowl of hot sticky rice!! There are many variations of this soup out there, but this is my version of Haemul Sundubu Jjigae!! Hope you guys can try it out one day!! It's super delicious!!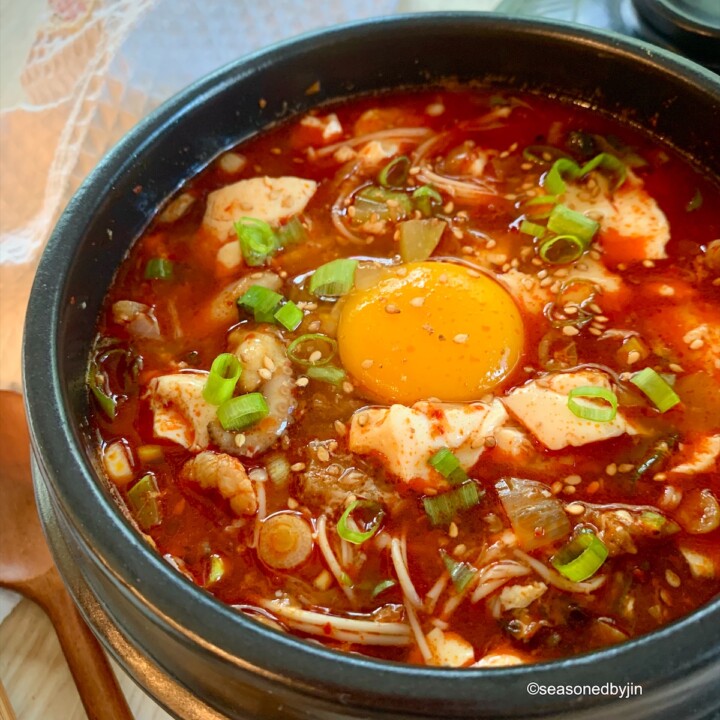 Print Recipe
Spicy Tofu Stew with Seafood/Haemul Sundubu Jjigae
Spicy Tofu Stew with Seafood
Ingredients
½

cup

chopped mushroom

baby bella, can alter

1

enoki mushroom

handful, about 50g

½

small

onion

diced

½

small zucchini

diced

⅓

cup

scallion

chopped

½

cup

frozen seafood mix

1½

cup

water

1

pack

extra soft sofu

1

egg

1-2

tbsp

sesame oil

½

tsp

salt

optional, as needed
House Spicy Sauce
1½

tbsp

red pepper flake, coarse

1½

tbsp

Korean soy sauce

1

tbsp

mirin

1

tsp

anchovy sauce

1½

tbsp

garlic, minced

1

pinch

black pepper
Instructions
Soak frozen seafood in cold water until ice is melted, then drain well.

Make the House Sauce, mix this sauce with the seafood and set aside.

Wash and chop vegetables. Set aside.

Heat a medium size saucepan and add sesame oil. Stir fry onion until half way done. Add the seasoned seafood mixture and stir fry for about 2 min. Add water and close lid. Once the water boils, add zucchini, mushroom and tofu. Boil for about 3-4min with lid. Taste and add salt if needed.

Add egg and give it a stir. Turn off fire and leave on stove top for 1-2 min while the egg gets cooked inside the pan. Sprinkle scallions and serve hot.
Share on Facebook
Pin Recipe