published 8/11/2021 modified 8/10/2022
If you love watermelon, save the rinds and make this delicious Watermelon Rind Kimchi! Balanced with crunchy texture, refreshing flavors and some heat! So addictingly good and perfect as a summer side dish!
why watermelon rind?
I personally grew up eating watermelon rinds due to my parents who believed in zero waste food. During the summer months, I used to watch my dad make side dishes using watermelon rinds. He would make spicy ones, non spicy ones and I think even stir fried some. Yes he was definitely adventurous in the kitchen. However back then, I didn't appreciate watermelon rinds and didn't think much of them. But as I got older, I got curious and decided to mimic how my dad used to make his dishes. To my surprise, the rinds tasted fantastic! And the flavors really went well if brined properly! So that's how I got hooked into watermelon rinds!
what are the benefits of using watermelon rinds?
Watermelon in general is a fruit with a very high-water content, and the same goes for its rinds. Meaning it's a great hydrating food to consume! You would be surprised to hear that watermelon rinds are quite healthy! Some of benefits may include, but not limited to, helping with skin, strengthening the immune system, lowering blood pressure, and aiding in weight loss. So next time you have pounds and pounds of watermelon rinds heading to the trash can, think of what you can do with it!
what kind of watermelon rinds should i use?
I have only used rinds from the typical watermelon with green skin, but I am sure you can use other watermelons as well. One thing I noticed that made a big difference was the summer watermelon vs the winter watermelon. the summer rinds had much higher water content, was more tender, and bit on the sweeter side compared to the winter watermelon rinds.
for winter watermelons, here are my suggestions:
If you have to make kimchi with the winter watermelon rinds, they made need to be brined for a longer period of time. (When the weather is humid and warm, the salting phase tend to be shorter.) Something I noticed with other vegetables too.
Next, they may require more sweetener. The winter watermelon rinds were not as sweet as the summer ones. And he same went for the watermelon itself. So be ready to add in extra sweetener!
can you only use fresh rinds?
Please do not use the rinds with bite marks, instead use only the fresh ones that has been carved with knife. This will ensure freshness of the kimchi flavor at the end.
how can i make it less spicy?
You can easily control this kimchi by adding more or less gochugaru when you make your sauce. That's where most of the heat comes from. But do remember, with less gochugaru, you don't get to see that fiery, rich red color!!
how long will watermelon kimchi last?
I did enjoy that this kimchi had a nice sweetness from the watermelon juice, however it didn't stay fresh longer than 2 days. My advice is to eat this kimchi fresh, on the same day you make it. FYI, after 2 days, the crunchiness will start to drop.
variation to the recipe:
**This kimchi will stay fresh (crunchy) for about 5 days without the watermelon juice. Make sure to store it in the fridge inside a sealed container.
Did you enjoy this watermelon rind kimchi recipe?
Be sure to check out more of my delicious kimchi recipes: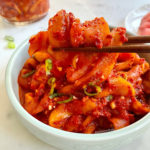 Print Recipe
The Best Watermelon Rind Kimchi
If you love watermelon, save the rinds and make this delicious Watermelon Rind Kimchi! Balanced with crunchy texture, refreshing flavors and some heat! So addictingly good and perfect as a summer side dish!
Ingredients
2

lbs

watermelon rind slices

3

Tbsp

coarse sea salt
Kimchi Seasoning
6

cloves

garlic

minced

5

Tbsp

gochugaru/coarse red chili flakes

2

Tbsp

mesil/plum syrup
Garnish
chopped scallions

sesame seeds
Optional
⅓

cup

watermelon juice

freshly blended
Instructions
Prepare fresh watermelon rinds. Discard green part and keep white part. Slice white part thinly then combine into a wide bowl.

Sprinkle sea salt and toss until salt is well dissolved. Place a wrap on top and let it sit in room temperature for 30 min. Toss and flip the rinds. Wrap and let it sit another 30min.

While rinds are pickling, make kimchi seasoning. Combine all seasoning ingredients, mix and set aside.

After 1 hour of sitting in salt water, take out rinds. Rinse rinds in cold water 2 x and squeeze water out.

Combine rinds and kimchi seasoning into a mixing bowl. Work seasoning into rinds until well incorporated. Sprinkle with scallion and sesame seeds when serving.

Consume within 2 days for best flavor and texture. Store in glass container.
Share on Facebook
Pin Recipe
Notes
**The original recipe had watermelon juice as one of the main ingredients. I modified this recipe by making this an option. 
**When adding watermelon juice into the sauce, it's best to consume the kimchi within 2 days. Its sweeter due to the juice but the crunchy texture will not last after 2 days. 
**If you omit the watermelon juice, the kimchi will stay crunchy for about 5 days. 
Latest Posts: