Addictive Marinated Eggs are so irresistible!! Jammy eggs bursting with deep savory flavors, popping colors and texture! Every bite of this will get you hooked and craving for more!
This is one of those modern Korean side dishes that became very popular via Korean SNS a few years ago. I didn't really have a craving for it until recently. There are many variations out there, however, I couldn't find one that made my tongue say, 'aha!' So of course, I went straight into development phase and after 3-4 trials, my version of Mayak Gyeran was born! This version has a good balance overall; it tastes fresh, savory, sweet and does not leave your mouth thirsty for water all day long.
why is it called mayak gyeran?
The literal translation is, mayak=drug, gyeran=egg. But no worries, there are no drugs involved in this recipe! The name reflects the ideas that Mayak Gyeran is so addictingly good that you will get hooked over and over again. So there you go, now you can educate others what this name really symbolizes.
how do you cook the eggs?
Ever since I bought my own egg steamer, by Dash, I have been using it very often. All you have to do is add water to the desired level, which will control the consistency of the yolk when cooked. But you have to poke a tiny hole on top of each egg with the tool they provide. This ensures that the yolk gets centered nicely and helps to ease the peeling process. Push the cook button and walk away until it plays a really cute song when it's finished steaming. If you don't have one of these gadgets, boiling in the pot, traditional way, will be the way to go for you.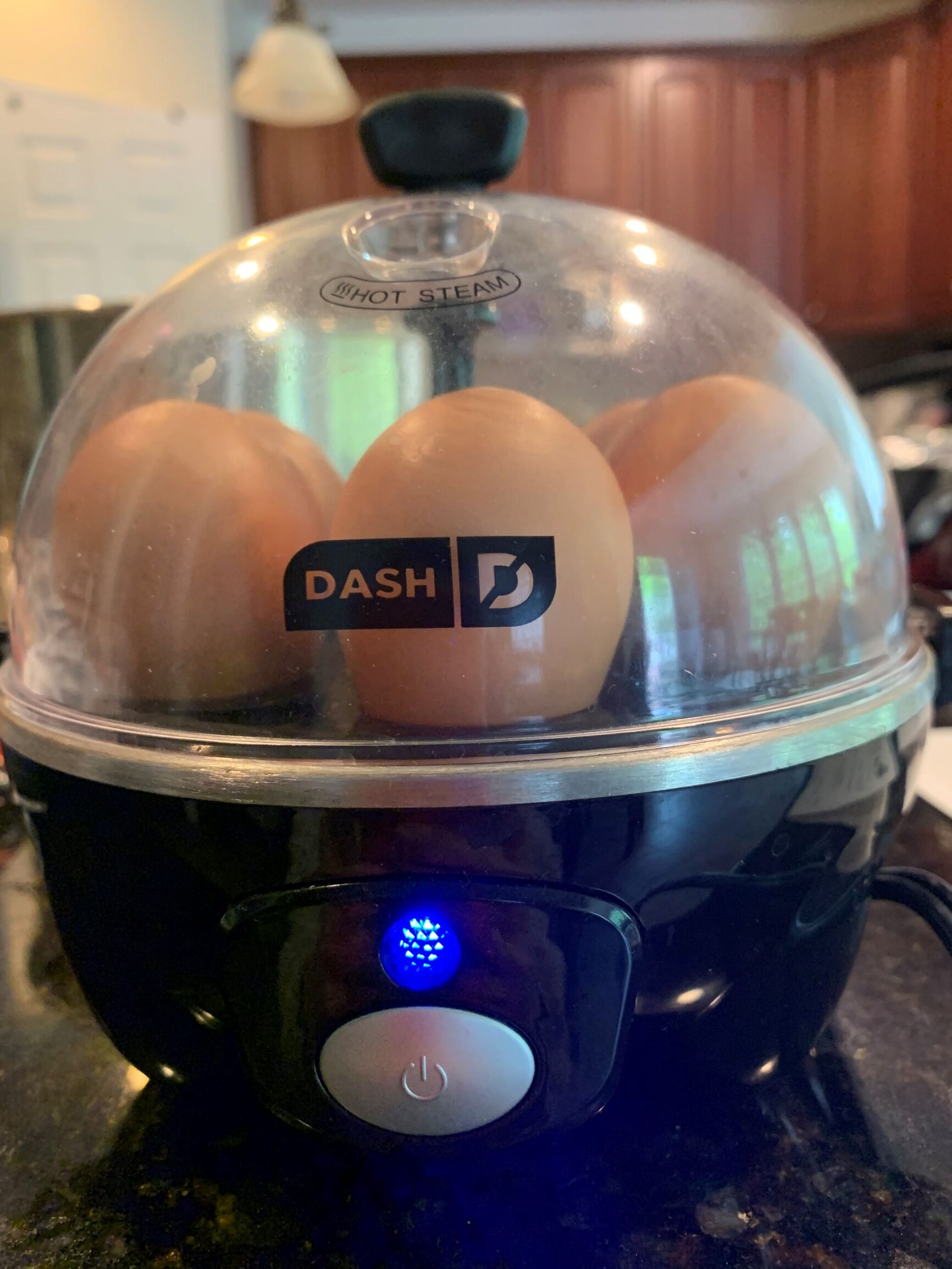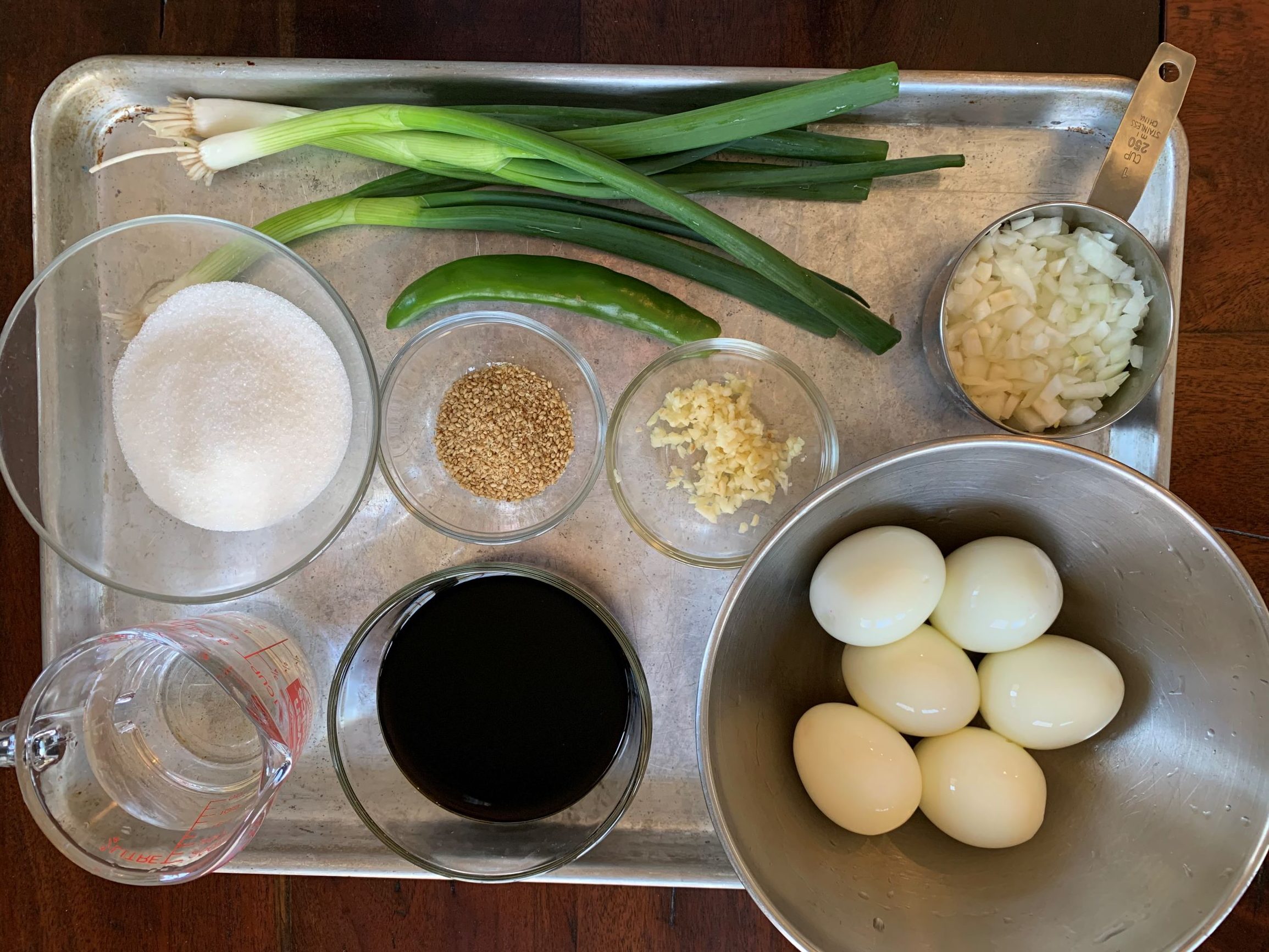 what other ingredients are needed?
For this recipe I chopped onions, garlic, scallions, Korean red chili pepper and Korean green chili pepper. You can add more chili pepper for extra heat. Don't forget about the sesame seeds. For me, I felt like the whole sesame seeds gave it a cleaner look to it rather than the crushed sesame seeds, but it's personal preference.
HOw long should the eggs be marinated?
I have tried consuming the eggs about 3-4hours after marinating. It was good, but the flavors were not as intense compared to the eggs I ate a day later. I recommend for best flavoring, leaving the Mayak Gyeran in the fridge overnight. It will be tempting but please control yourself! The egg will turn brownish from the soy sauce, but don't be alarmed, this is normal. The yolk will remain the same.
how should i eat mayak gyeran?
In a bowl, scoop some hot rice, and top it off with an egg or two. Drizzle a good amount of sauce on top. If you have an egg with a runny yolk, you might want to take a video of it as you split the egg in half. Mix everything together and take a big swooping bite. Trust me, it will melt in your mouth!
do you recommend certain seasoning brands?
Yes, I do have some recommendations. For the soy sauce, I want to recommend using a Korean Brand called Sempio. In the past I have used regular Kikkoman soy sauce and I had to dilute it so much, it was too much trouble. For the sesame oil, I recommend a Japanese brand called Kadoya Pure Sesame Oil. They are in my opinion the best tasting sesame oil you can find in the market! My othe advice is to drizzle sesame oil before serving the egg instead of adding them in the marinating sauce. It will keep the sauce fresh longer.
Can i reuse this sauce to make another batch?
My recommendation is 'no' for this one. The last time I reused my sauce, it turned a little funny. My sauce became kind of slimy, which was weird. I ended throwing that batch away. So my suggestion is to try using the sauce within 5-6 days. I will post some ideas on how to use this yummy sauce into other dishes after the recipe box. It will be called the Bonus Section. LOL.
how long can you keep this in the fridge?
Got leftovers? You can keep it in the fridge, in a container with a tight lid for about 3 days.
did you enjoy this recipe?
Did you enjoy this Addictive Marinated Egg recipe? Be sure to check out my other recipes!
Print Recipe
Addictive Marinated Eggs, Korean Mayak Geyran
Addictive Marinated Eggs are so irresistible!! Jammy eggs bursting with deep savory flavors, popping colors and texture! Every bite of this will get you hooked and craving for more!
Ingredients
10

hardboiled/steamed eggs

⅔

cup

onion

diced

1

Korean red chili pepper

finly diced

3

scallion

chopped

1

Korean green chili pepper

finly diced (optional)
Tasty Sauce Ingredients
¾

cup

Korean Sempio Jin Soy Sauce

⅔

cup

water

5

Tbsp

raw cane sugar

1

Tbsp

vinegar

2

tsp

maesil extract

(plum extract)

1

Tbsp

sesame seeds

whole

1

pinch

black pepper

1

Tbsp

garlic

minced

½-1

tsp

sesame oil

sprinkle before serving
Instructions
Steam/Boil eggs. Cool and peel the egg shell. Set aside.

Chop & dice vegetables and set aside.

Make the Tasty Sauce in a medium size bowl, mix well. Into the same bowl, pour the chopped vegetables and eggs. Give it a stir and cover the bowl. Refrigerate overnight.

Serve egg cold on top of rice. Drizzle heaping tablespoon of tasty sauce. Drizzle with sesame oil and mix all together. Enjoy!!
Share on Facebook
Pin Recipe
Bonus section:
This is an additional section that is totally optional. I created this in hopes to help others use the tasty sauce to it's fullest. There are few ideas I came up with while the eggs were marinating in the fridge. It was very convenient because I was able to use the sauce in 3 different dishes as I prepared a meal for my fam. Here are the details.
First: On top of my blanched broccoli, I drizzled the Tasty sauce and tossed it like salad dressing, then added sesame oil.
Second: I added the tasty sauce to the stir-fried potatoes and simmered it for few min on the pan. Then added sesame oil.
Third: The tasty sauce also became the dipping sauce for my pan-fried mandoo/dumplings. It was yummy and not salty!
Thanks to the tasty sauce, I was able to create a healthy and yummy meal for the whole fam in less than 30 min!! They didn't really know what my secret was for this meal, but you sure do!! Let me know how yours turned out!! Give me a like or comment please!