White short-grain rice is a staple food for most Koreans. However, there are ways to make this sticky rice more nutritious and beneficial. By adding variety of grains and beans to the rice prior to cooking. Afterward, let your rice maker do all the work for you! Healthy and Delicious!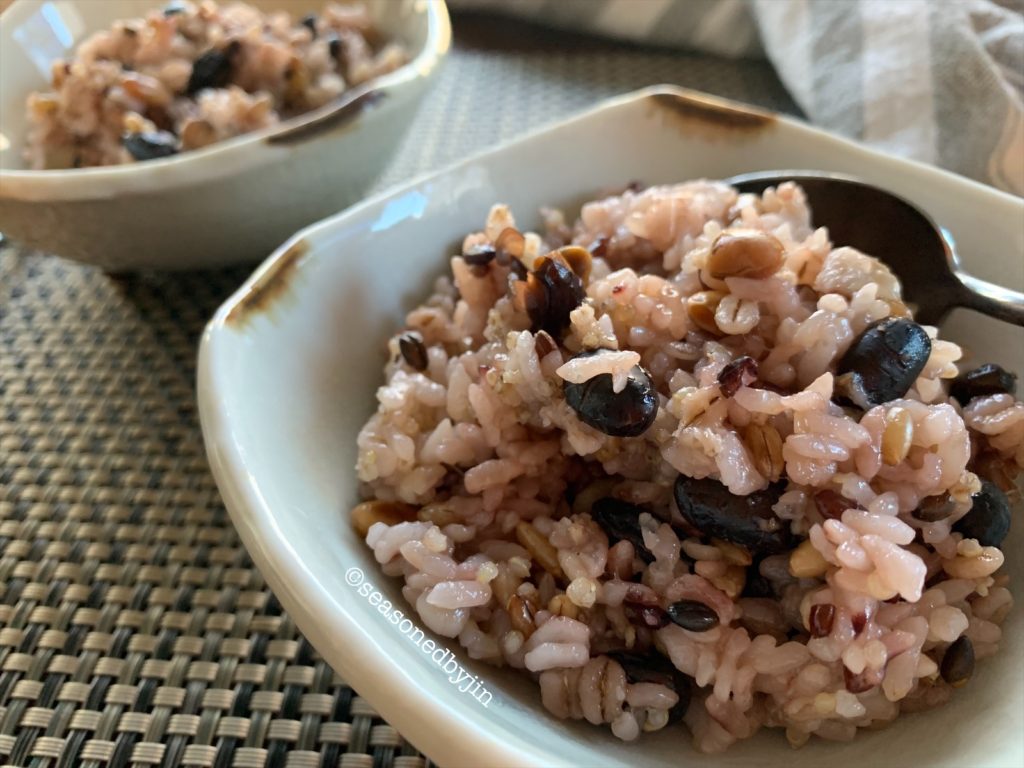 What ingredients do I need for japgokbap?
These ingredients can vary, but these are just some ingredients I had in my pantry. Basically your goal is to combine a mixture of grains with rice and some beans.
Short-grain rice, I used Kukuhu brand Calrose Rice
Short grain sweet rice, I used Koda Farms Sho-chiku-bai
6 grain rice. My package had: black rice, Hulless Barley, MG Red Rice, Purple Barley, Rye Berries, Short Grain Brown Rice
White Quinoa, i used Trader Joe's Organic quinoa
Flat barley
Yellow Soybeans
Black soybeans
Dark Glutinous Millet
how do i prep the ingredients?
Once all the ingredients have been gathered and measured, combine all of them into a bowl to be washed. You want to wash and rinse them at least 3x. Drain rice in a sieve for about 10-15min and then pour the rice mixture into the rice maker pot. Next, pour water and let it soak for an hour. I noticed when I didn't soak the mixed rice, the black soy beans were not as soft. Last but not least, don't forget to add the sea salt before pressing the start button!! This well help with the flavoring. It really brings out the deep flavors of the beans and grains.
What kind of rice maker should i use?
For the Japgokbap to cook property, it needs to be cooked in a pressure cooker rice maker. If you don't, not all the grains and beans will be soft enough to eat! My rice maker is a Korean brand called Cuckoo and it's an induction/pressure/all purpose rice cooker. It gets really hot and cooks really well. I think the thick golden rice pot has something to do with it. Anyhow, let's move on.
how should i program the rice maker?
You want to set the rice maker at the mixed rice setting on your pressure rice maker, also known as japgok setting. With this option, it will make sure all your beans and mixed rice is cooked to perfection! If you press the regular rice cooking option, the beans will not cook thoroughly. Press the button to start and walk away!
how do i eat japgokbop?
Look how nice the mixed rice came out!! So colorful and delicious looking, isn't it?? I love the way the flavors marry together when you take the first bite! Very nutty and comforting is how I would explain it and the aroma is very sweet too, in a healthy way. You can enjoy this mixed rice by itself as a snack or consume it like a normal white rice with other Korean side dishes. By the way, Japgokbap is very filling, due to all the extra proteins added. And final good news, you can freeze these guys!
did you enjoy this korean multigrain rice recipe?
Be sure to check out more recipes below!
Print Recipe
Korean Multigrain Rice, Japgokbap
Korean Nutrious Rice/Mixed Rice
Ingredients
1

cup

white short-grained rice

½

cup

short grain sweet rice, chapssal

⅓

cup

black soybeans

⅓

cup

yellow soybeans

⅓

cup

mixed rice

⅓

cup

flat barley

1

tbsp

white quinoa

1

tbsp

dark glutinous millet

1

tsp

sea salt

2½

cup

water
Instructions
Add all the ingredients into a big bowl. Wash and rinse well, about 3x.

Drain mixed rice in a sieve for 10-15min.

Pour the mixed rice into the rice maker pot. Add water and let it sit for about an hour. After an hour, add salt and stir well.

Select Mixed Rice function on the Rice maker and press start.

When rice is done, mix well and serve hot. Can freeze if desired.
Share on Facebook
Pin Recipe
recent posts: