Full of savory flavors and textures, this Korean Daeji Doenjang Jjiggae is sure to make a perfect one pot meal for your family! Pair it with freshly made rice for that ultimate comfort combo!
Why this recipe works:
Doengjang Jjiggae has to be one of my favorite stews in the whole world!! It has everything you would want in a soup; hearty, savory, and spicy flavors with lots of texture and healthy ingredients. And the best part is, you can mix and match anyway you feel like it!! Doengjang is a very versatile paste since you can pair with beef, pork or seafood. For this particular recipe, I have paired doengjang with pork baby back ribs, potatoes and Asian napa cabbages. Subtle heat is also added to give it a little kick. Make a big pot of this because it will be gone before you know it!!
What is Doenjang?
Doenjang is an essential ingredient for Korean cooking, made from soybean and brine. (doen=thick, jang=sauce daeji=pork) This soy bean paste must go through a meticulous fermentation process and at the end, a rich, pungent and savory paste is produced. Doenjang has a unique flavor of it's own. I want to say it has a combination of saltiness, nuttiness, and tanginess. The color varies from golden light brown to dark brown. The scent varies too; the homemade doenjang being more pungent than the store bought one. The texture varies from thick to very thick and smooth to very coarse due to the beans. I personally like to use the homemade doenjang that's thick and has more of the bean texture. Doenjang can be consumed with or without being cooked, which makes it very versatile. It's very common to see doenjang used in Korean soups, stews, side dishes, dips and marinade. To keep it's freshness, doenjang should be stored in the fridge.
Why Do I like Doenjang?
Having a sensitive stomach, I am not very good at digesting certain type of cooked beans. But when it comes to doenjang, I don't have any problems. (thank goodness!) Since doenjang is made from fermented soybean. it must have more beneficial bacteria than other cooked beans. Ever since I can remember, Doenjang paste in my food has always helped soothe my stomach.
I also think doenjang helps to increase my appetite. Due to my seasonal allergies, I tend to loose my appetite during the change of seasons. A perfect remedy for me is a hot bowl of doenjang Jiggae with rice.
Lastly, doenjang is very versatile. I often use it in a lot of my cooking and I never get tired of it!! Now, it's time for you to try doenjang and see how you like it!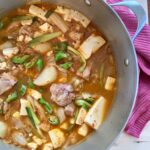 Print Recipe
Daeji Doengjang Jjigae
Full of savory flavors and textures, this Korean Daeji Doenjang Jjiggae is sure to make a perfect one pot meal for your family! Pair it with freshly made rice for that ultimate comfort combo!
Ingredients
1

lbs

pork baby back ribs

8

leaves

napa cabbage

chopped into 2"x2"

1

med

onion

chopped

4

small

potato

chopped

1

whole

dry shitake mushroom

sliced

5

clove

garlic

whole

1

thumb size

ginger

peeled

1

tbsp

soup soy sauce (guk ganjjang)

4

tbsp

doenjjang paste

1½

tbsp

miso paste

⅙

tsp

black pepper

1-2

tsp

red hot pepper flakes

coarse

19

oz

tofu

medium firm, chopped

1

whole

hot green pepper

sliced, optional

2

bunch

scallion

chopped 2" long
Instructions
In a big bowl, soak pork ribs in cold water for 1 hour. Rinse well, drain and set aside.

Soak dry shiitake mushroom in warm water for about 15min. When mushroom is soft to touch, squeeze excess water and slice.

Bring water to boil, enough to submerge the pork ribs. Boil on high heat for 5 min and discard water. Rinse meat again and set aside.

In a large stock pot, bring 9 cups of water to boil. Add to the pot garlic, ginger, pork ribs and boil on high for 20 min with the lid.

Add potato, onion, cabbage, doenjang, miso, hot pepper flake, black pepper, soup soy sauce, mushroom. and boil on high heat with lid for 10-12 min.

Lower the heat to medium and cook for additional 6-7 min.

Add tofu and close the lid. Cook for 3-4 min.

Turn off heat. Add scallion and hot green pepper.
Share on Facebook
Pin Recipe