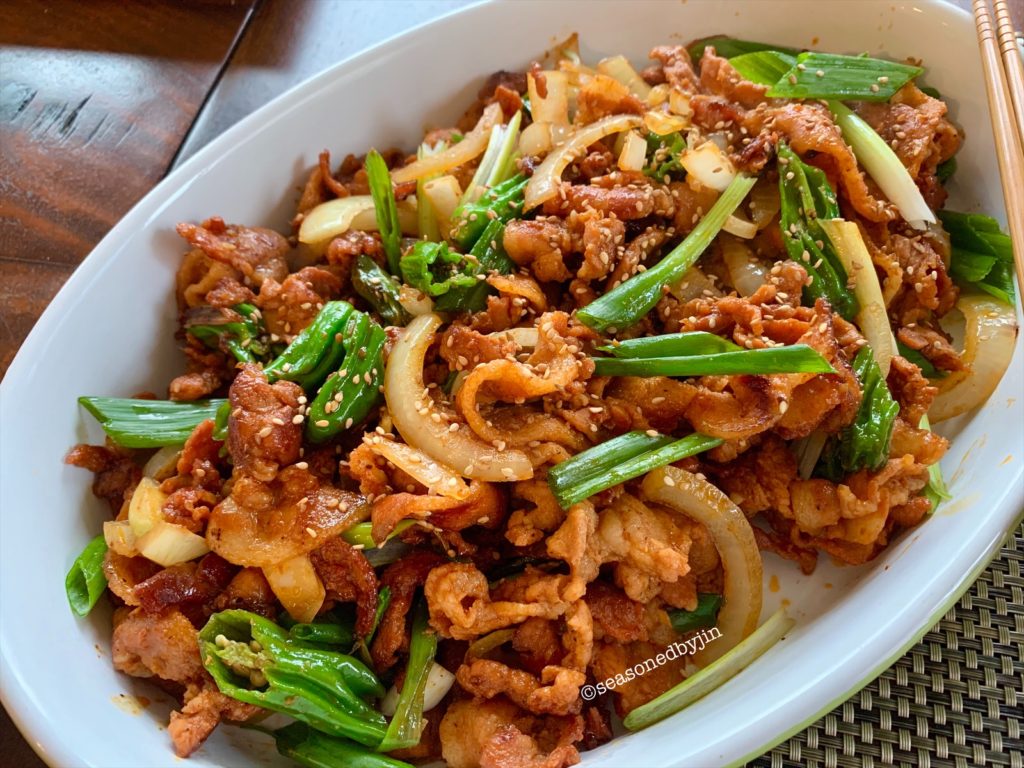 what is jaeyuk bokkeum?
Jaeyuk Bokkeum or Pork Bulgogi is a meat dish that is equally popular to beef bulgogi in Korea. Literal translation of Jaeyuk means pork and bokkeum means stir-fry. If you are a big fan of spicy Korean food, this is a must try item. My recipe, however, is a milder version of Jaeyuk Bokkeum so kids can enjoy it as well. But not to worry, flavorwise, It's just as tasty and addicting!!
HOw shoul I prep for Jaeyuk Bokkeum?
First, prep the meat. Add seasoning per the recipe and set aside.
Next, make spicy sauce. You can increase the gochujang here to make it more spicy.
Third, chop all the vegetables and set it aside.
Next, marinate the meat with spicy sauce.
Finally, pan fry everything together!
What kind of pan should I use to cook?
Due to the sauce being on the dense, sticky, and sweet side, I suggest using a coated/non-stick pan to cook Jaeyuk Bokkeum. If you plan to cook on an outside grill, make sure the grills are coated with oil prior to cooking Jaeyuk Bokkeum.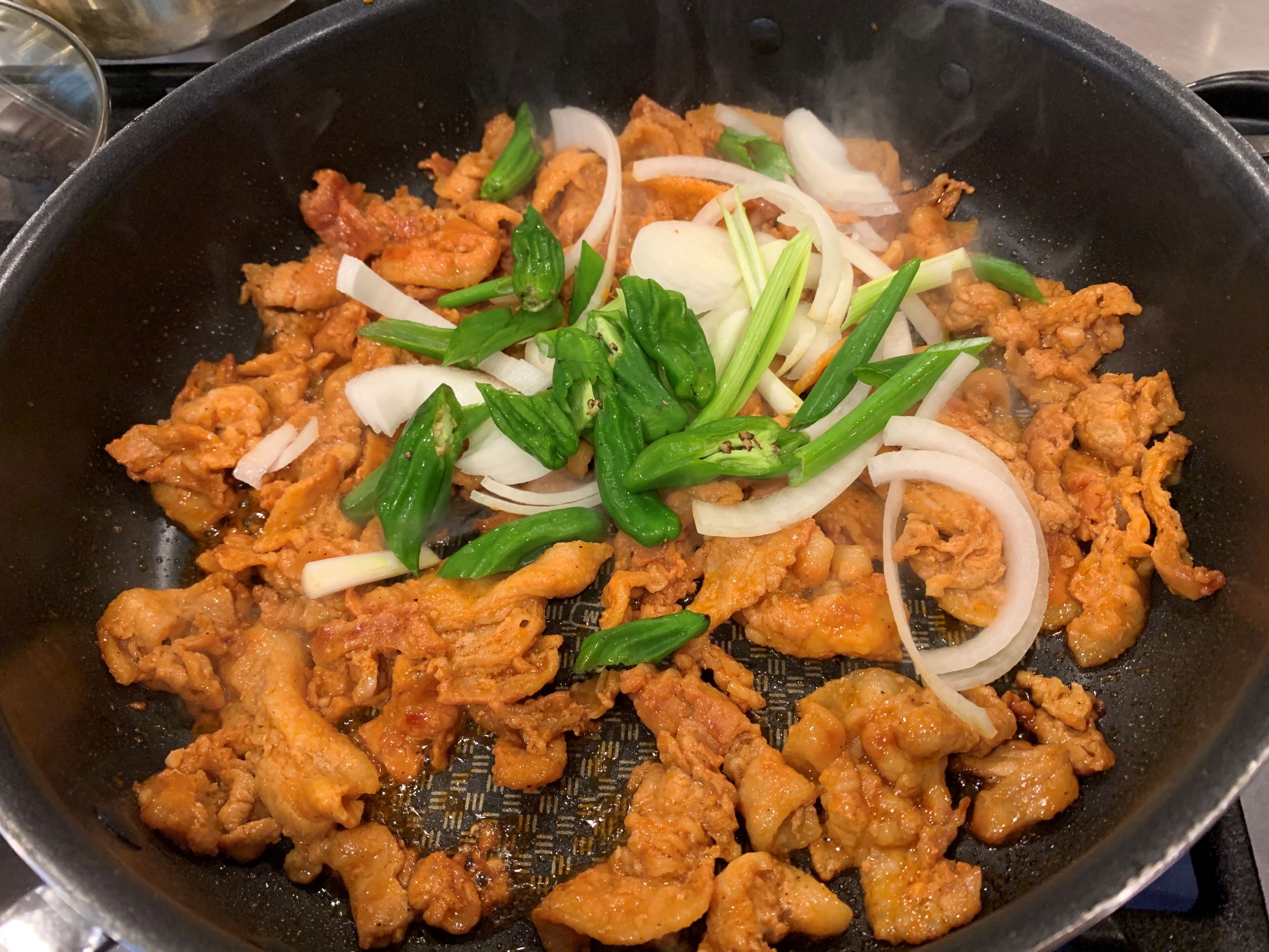 can i add other vegetables to jaeyuk bokkeum?
Yes of course! Here are some vegetables I suggest:
carrot
cabbage
red onion
red pepper
zucchini
Don't these look mouth watering? Easy to make and share with other too! Enjoy these with a bed or rice or wrapped with lettuce and samjang!! Happy Cooking!
Print Recipe
Korean Spicy Pork Bulgolgi, Jaeyuk Bokkeum
Ingredients
1 lb

11oz

pork bulgolgi meat

3

tbsp

sake

1

tbsp

garlic

minced

½

tbsp

ginger

minced

2

tbsp

gochujang

1½

tbsp

Korean soy sauce

1

tbsp

maesil extract

2

tsp

raw cane sugar

¼

tsp

black pepper

½

tbsp

sesame oil

1

pinch

sesame seeds

1

medium

onion

thinly sliced

2-3

spring onion

chopped 2" long

12-14

pc

shishito green peppers

chopped

1

tbsp

vegetable oil
Instructions
Place meat into a bowl and add sake. Toss gently, set aside.

Make the spicy sauce. Add everything except for sesame seeds, onion, spring onion and peppers and vegetable oil. Mix well. Can add more gochujang if desired.

Add the spicy sauce to the meat and mix well using hands. Let it sit for 15 min.

Heat a large surface non-stick pan and add oil. Cook the meat on high for 4-5 min or until meat is no longer pink. Add the vegetables and cook additional minute.

Turn off heat and garnish with sesame seeds.
Share on Facebook
Pin Recipe