This Modern Vegan Kimbap needs only 5 basic ingredients!! And in less than 30 mins, you can have yourself authentic Korean kimbap that is healthy and delicious!! Not to mention how pretty they are too!!
Don't stress out too much about the inner fillings. You can use whatever you have if you have to. Being flexible will allow kimbap making process much more fun and enjoyable!
why this recipe works:
The ingredients are easy to find.
You can modify the fillings to your liking.
Great way to use up left-over rice in your rice maker.
Clean out the fridge with leftover veggies.
Easy to consume meal and packable.
kimbap and it's fillings!
Kimap is such a great medium to play around. This is probably why my kimbaps never look the same! You can play around with color, texture and flavor!! Here's one way I made my kimbap. it was a hot summer weather, so this was a perfect fit for it. Light, crunchy and oh so yummy!
I wanted to make the inner colors pop by using the three natural colors, such as orange from the carrot, yellow from danmuji (pickled radish), and green from avocado. I wrap them tight altogether with rice and seaweed and created a fun and festive meal!!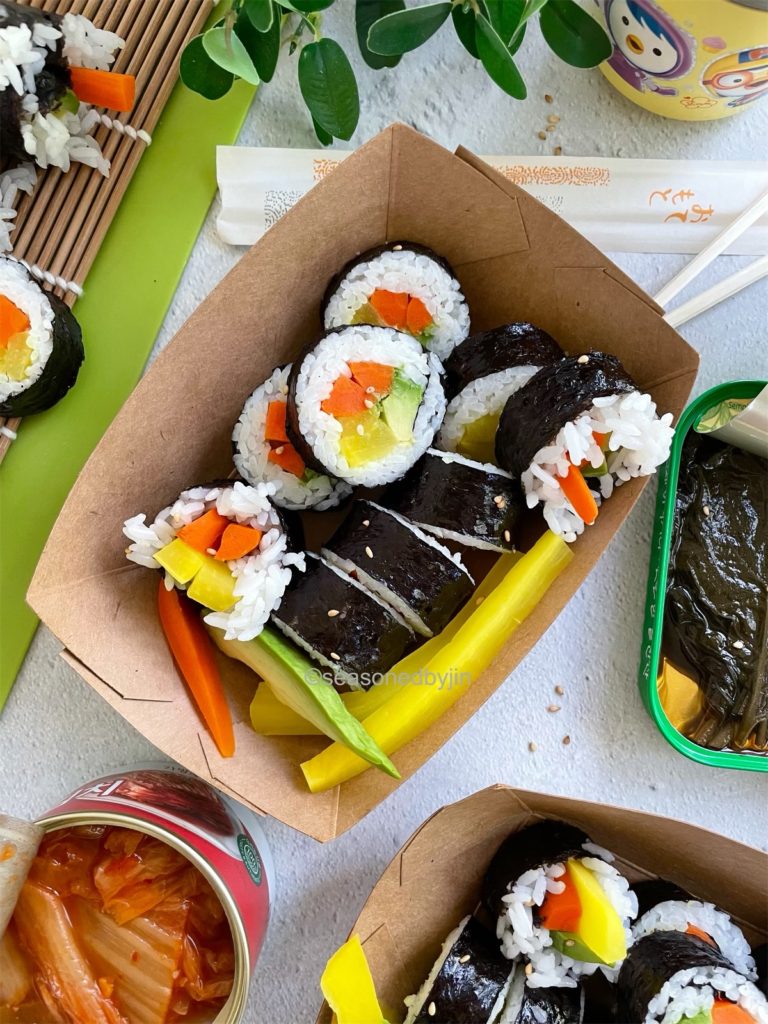 why is kimbap/gimbap so popular?
Kimbap is one of the greatest creation in my opinion! It's a wonderful snack, picnic or a meal to go! And they are able to keep their freshness longer if you roll them right! They are also a great way to consume all the veggies in one sitting without feeling you are eating them. I personally love them for their vibrant colors and the flexibility in the ingredients.
how is kimbap different from sushi?
Kimbap is a Korean dish that typically incorporates cooked ingredients as fillings where as Sushi is a Japanese dish that typically incorporates mostly raw ingredients like raw fish and raw veggies. Although it can get confusing since many Kimbap these days use raw veggies. Lastly kimbap is seasoned with sesame oil and salt whereas sushi is seasoned with vinegar, salt and sugar. However in our household, we always prepped rice the Japanese way since my dad liked it that way, so sorry to confuse you even more! So there goes my Modern Vegan Kimbap! Ha!
tips for making kimbap rolls:
Use a rolling matt made from bamboo.
Use short grain rice that is not too watery nor not too dry.
Use fresh ingredients for fillings.
Cool rice before spreading, warm to room temp is recommended.
Less moisture is better! Any filling with too much moisture will spoil kimbap quickly!
To preserve its freshness, package a whole kimbap without slicing.
Tap the end of seaweed with water to give that smooth edge without unraveling.
Use the right type of seaweed, it should say for kimbap making.
did you enjoy this recipe?
Be sure to check out more Vegetarian recipes below:
Print Recipe
Modern Vegan Kimbap
This vegan kimbap only requires 5 ingredients and can be made within 30 mins! I wanted to make the inner colors pop by using the three natural colors; such as orange from the carrot, yellow from danmuji, and green from avocado. Wrap them tight altogether with rice and seaweed for a fun and festive meal!! Trust me, this is definitely one healthy and tasty meal! Give it a try today!
Ingredients
2

cups

water

to boil carrot

1 ½

tsp

sea salt

3

med

carrots

1

avocado

10

strips

danmuji, pickled yellow radish

around 8" long

7

8"x 8"

seaweed sheets

for kimbap

sesame oil

roasted sesame seeds
Rice & Seasoning
7

cups

sushi rice, cooked and cooled

loosely packed

1

tsp

fine sea salt

1

tsp

sugar

6

tsp

vinegar
Instructions
Make rice in rice cooker and choose sushi rice option.

Bring 2 cups of water and salt in a pot and bring to boil. Meanwhile peel, chop the ends of carrots. Simmer carrots in pot for about 4-5min. Take them out and let it cool. It should be firm to touch but easy for knife to cut.

Slice danmuji lenthwise, should have about 9-10 strips. set aside.

Cut avocado into slices, lengthwise. Set aside.

When rice is done, measure and transfer into a wide mixing bowl. You can use glass or plastic or bamboo bowl. Into this hot rice add salt, sugar and vinegar. In quick motion toss the rice gently with seasoning while blowing air to help mix and cool faster. Taste to check. set aside.

Set up a station with bamboo roller on bottom and seaweed sheet on top. Place the seaweed shiny side down, then spread rice gently covering about 3/4 of seaweed.

On top of rice, place a strip of danmuji, carrots and avocado slices. Then slowly roll kimbap using bamboo roller as a guide. Wet end with water and seal.

Brush rolls with sesame oil and sprinkle sesame seeds.

Slice evenly, about 1/2" in width. Serve warm or room temperature for best result.
Share on Facebook
Pin Recipe
recent posts: