For many generations, since the Goryeo Dynasty era, Miyeokguk or Seaweed soup has been known as a healing/well being soup. Many Koreans believe that this soup helps reduce the swelling in postpartum, aids in digestion and blood circulation. It is very common to see Korean moms bring fresh hot Miyeokguk to their daughter's recovery room. It's to make sure that Miyeokguk is the first meal consumed after giving birth. It may not be as common with Koreans in the States, but I have seen plenty here too. I remember I had consumed Miyeokguk for one week straight post delivery and honestly, I think it really did help speed up my healing process.
my thoughts on miyeokguk…
In my opinion, Miyeokguk is more than just a healthy soup. It can also be noted for it's symbolic values. Since it is typically consumed on birthdays, and upon delivery of a new life, it can also be called a soup that symbolizes celebration of life/birth. And when you share this soup with others on your birthday, it makes it even more special.
So when I was little, birthday cakes were very expensive and a rare treat. Our birthday meals would include miyeokguk, bulgogi and other side dishes. We would sit around the bapsang (food table) to eat and enjoy the birthday meal together and of course, sing the happy birthday song in Korean. We didn't have candles and cake, but I think having people to celebrate together was a gift in itselft, now that I think about it…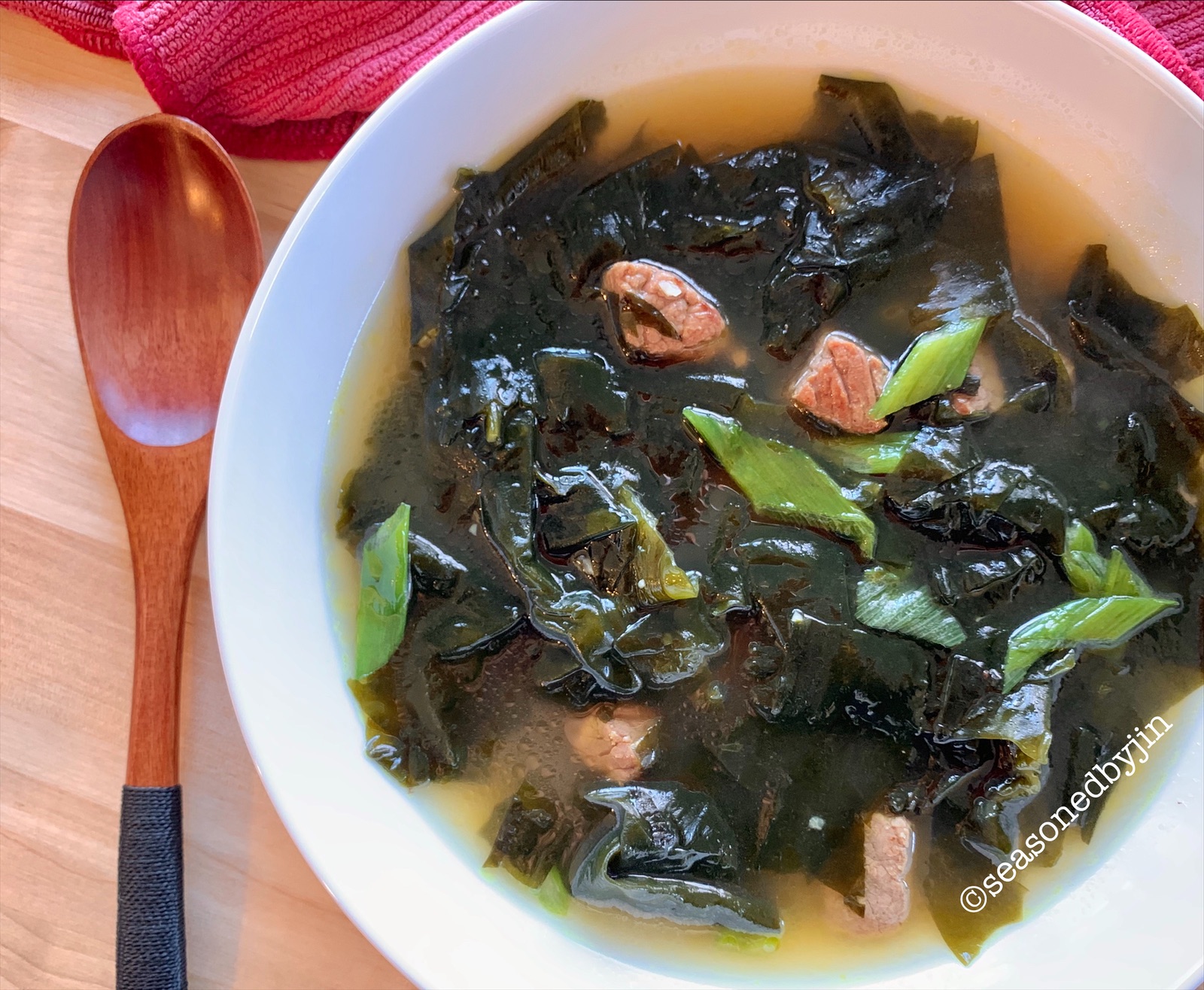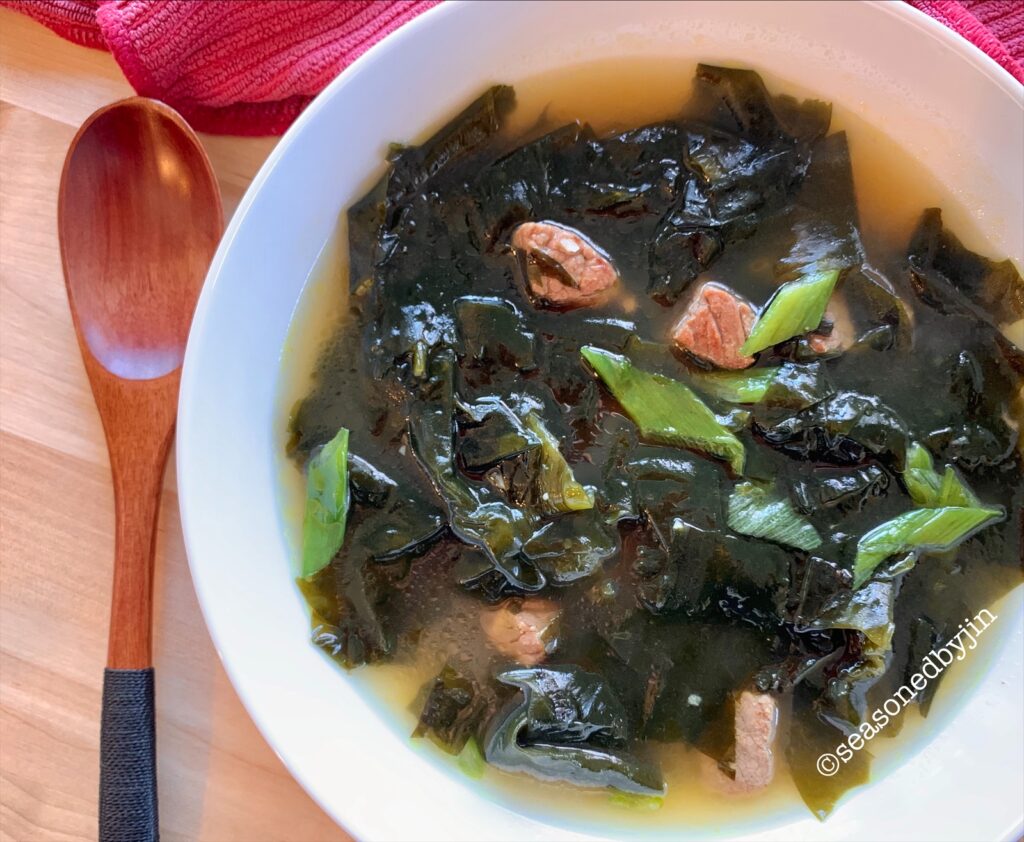 What goes into making miyeokguk
There are many variations to this soup base, such as beef, anchovies, and clams to name a few. My recipe calls for beef base since this is what I am used to growing up. Not to brag, but my grandmother used to make the yummiest Miyeok-guk!! Since seaweed does not have much flavor, the base soup will play a big role in the outcome of the overall taste. The texture is slimy, I am not going to hide this factor, but it is easy to consume and digest.
Dried seaweed is easily available and they are pretty inexpensive. You do need to make sure seaweed is soaked in cold water, long enough for the seaweed to absorb the water and become soft. I have noticed that some brands require more soaking time vs others so you may want to be mindful of this fact.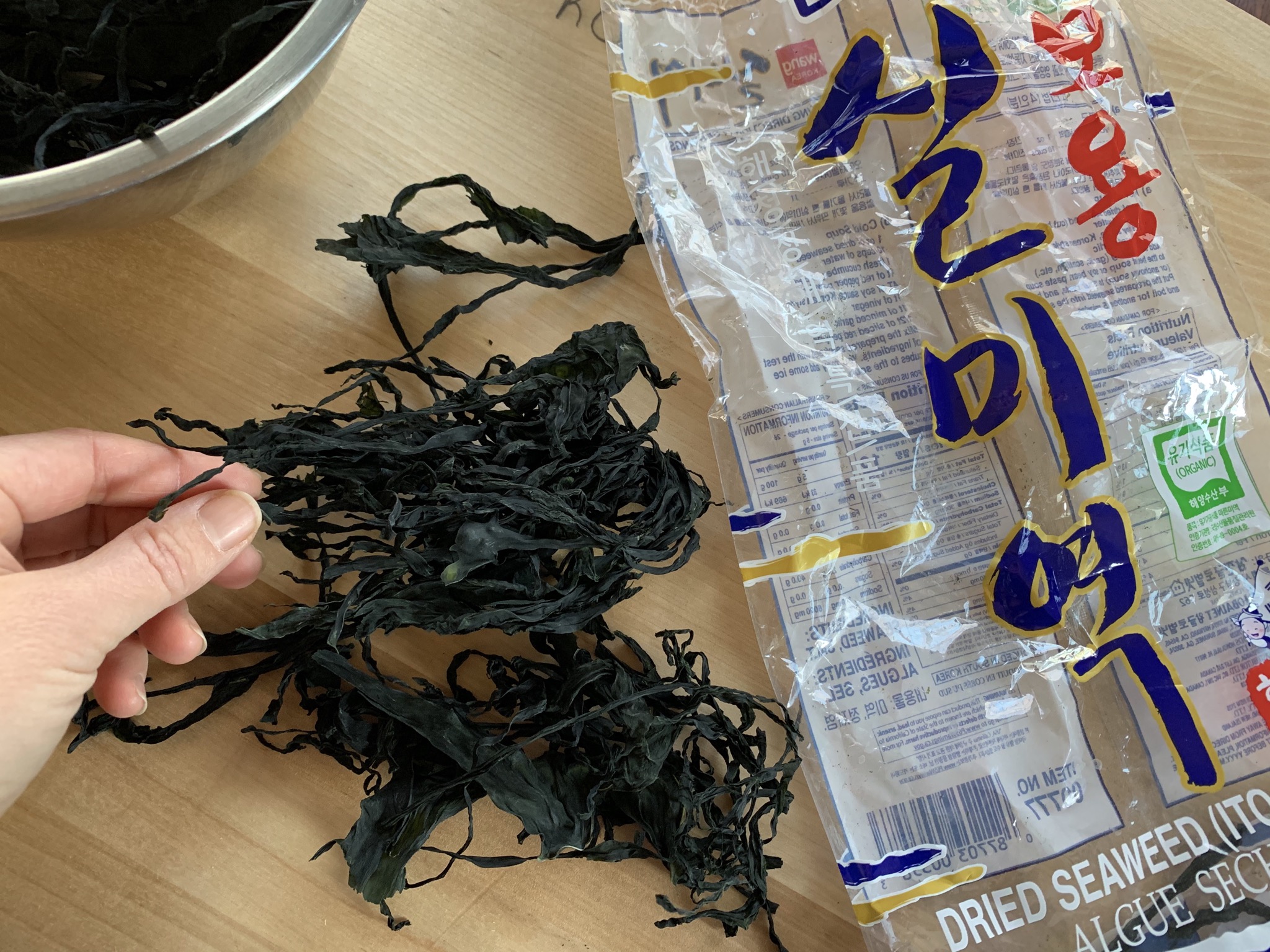 HOw to prep miyeok
An hour or two before you start the cooking process, the seaweed needs to be soaked in cold water long enough to be softened. Depending on the brand, the soaking time will vary. Some brands seem to softened much faster than others.
The prepackaged seaweed from the market is typically dry/dehydrated and hard/crispy to touch. But be aware, they will expand like crazy. Make sure you measure the dried seaweed before soaking it, or grab a small handful as a start.
Once the seaweed is soft, drain the water and gently squeeze the excess water. You don't have to completely squeeze out the water since you want to keep some moisture in the seaweed. Set it on the strainer while the other ingredients gets prepped.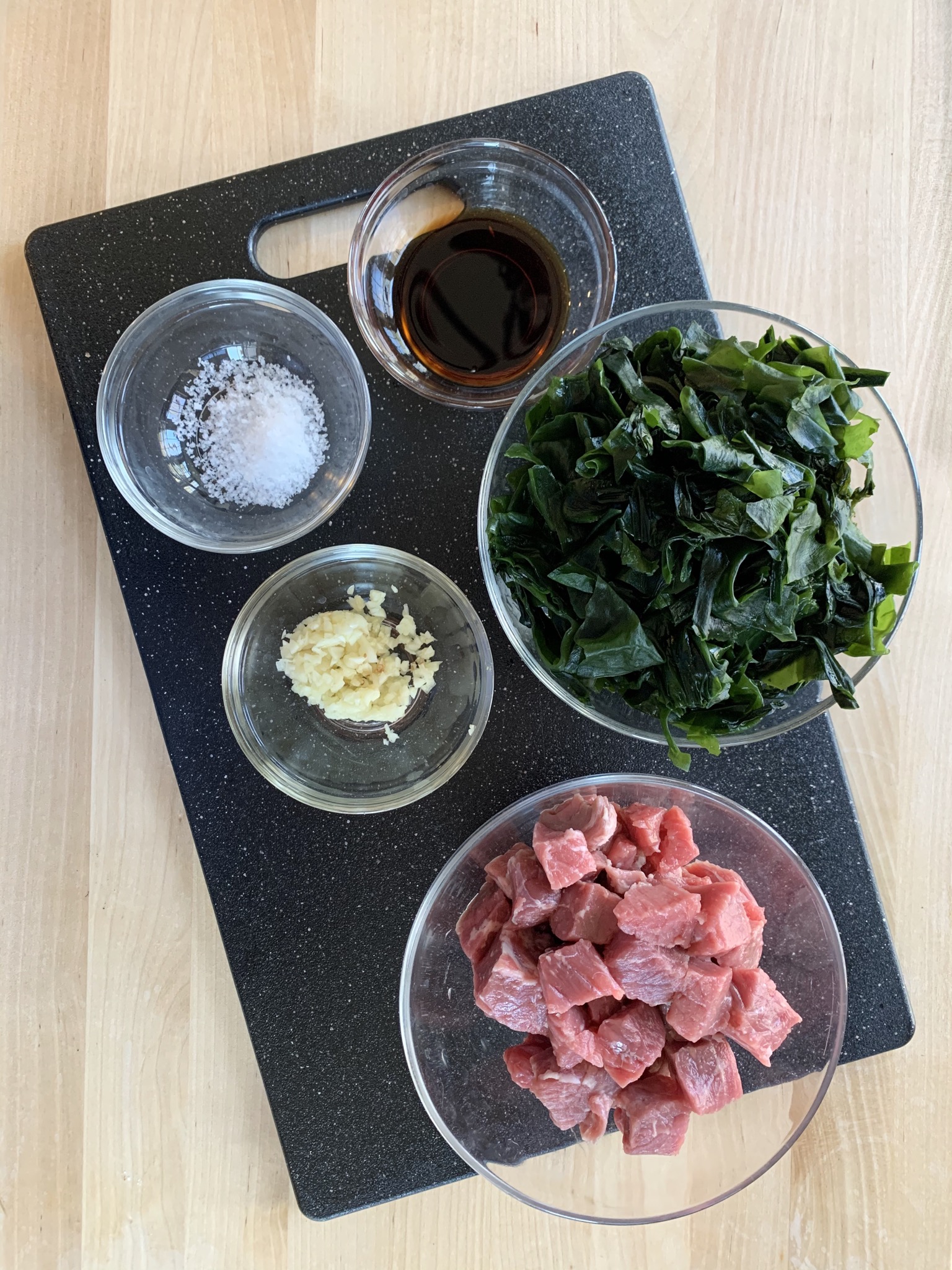 HOw to prep continues…
The next phase is to marinate the beef. I like to use Costco's beef, the flat meat steak, but i didn't have it handy on this photoshoot day. You can wear the disposable gloves to work the seasoning into the meat and then set aside for 5-10min.
An important reminder: don't forget to cut your seaweed into bite size prior to cooking! Some of these strands are super long!! I usually cut them into 2 " long lengthwise. You can cut them shorter if you want. Alright, let's get the pot rolling now!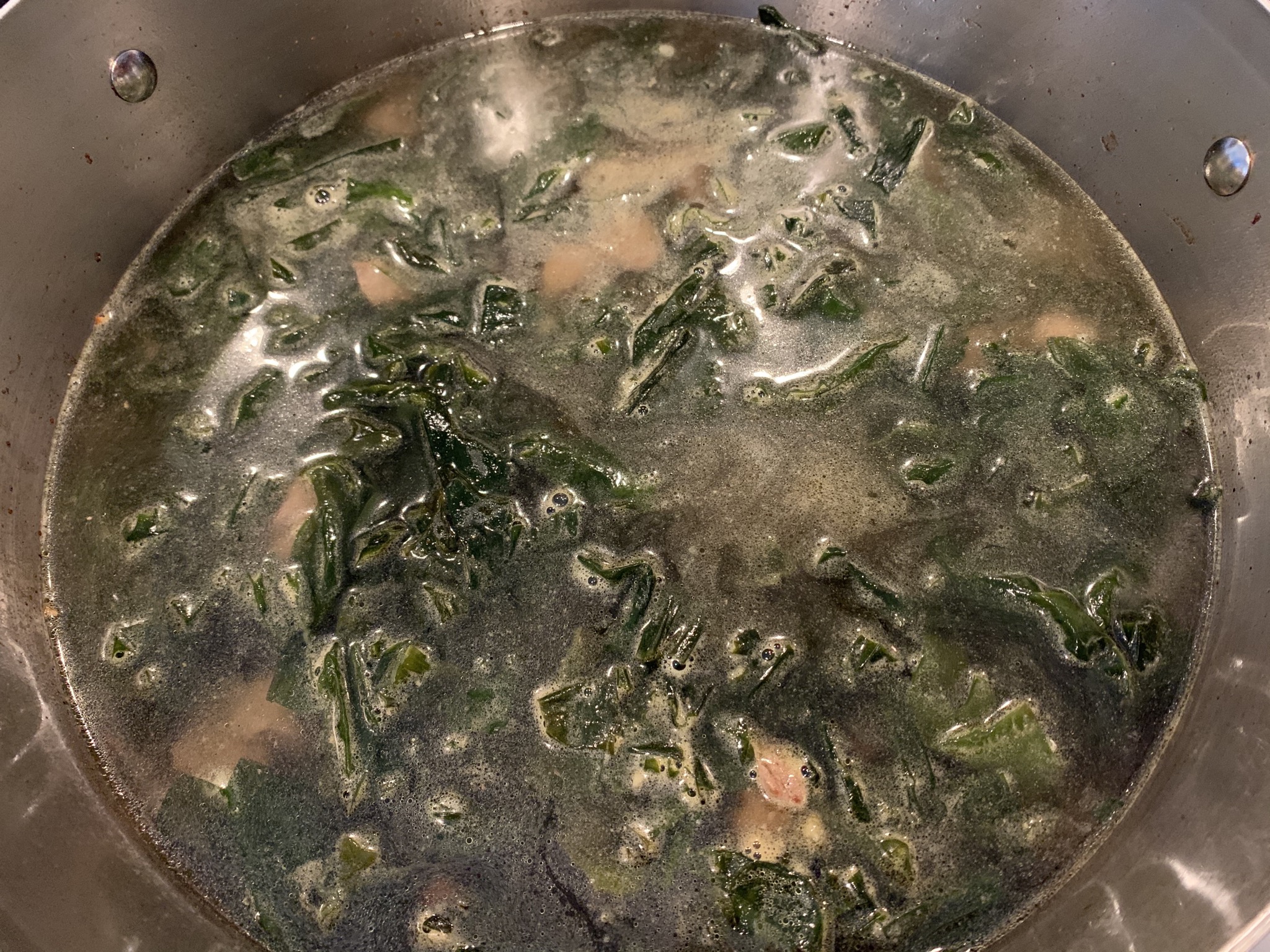 time to cook miyeokguk!
Pretty much a fast paced cooking from here. Stir fry the meat, add the garlic, then the seaweed and then add water! Boil them all together for suggested amount of time, and add the rest of the seasoning like soy sauce, garlic and more black pepper if needed. There you go: a hearty, delicious bowl of seaweed soup that is so soothing and healthy! Koreans love to eat this with a bowl of white rice and Kimchi side dish! At our home, my kids like to dump their sticky rice straight into the big bowl of Miyeok Guk and slurp everything up together! Healthy and Nutritious in a bowl!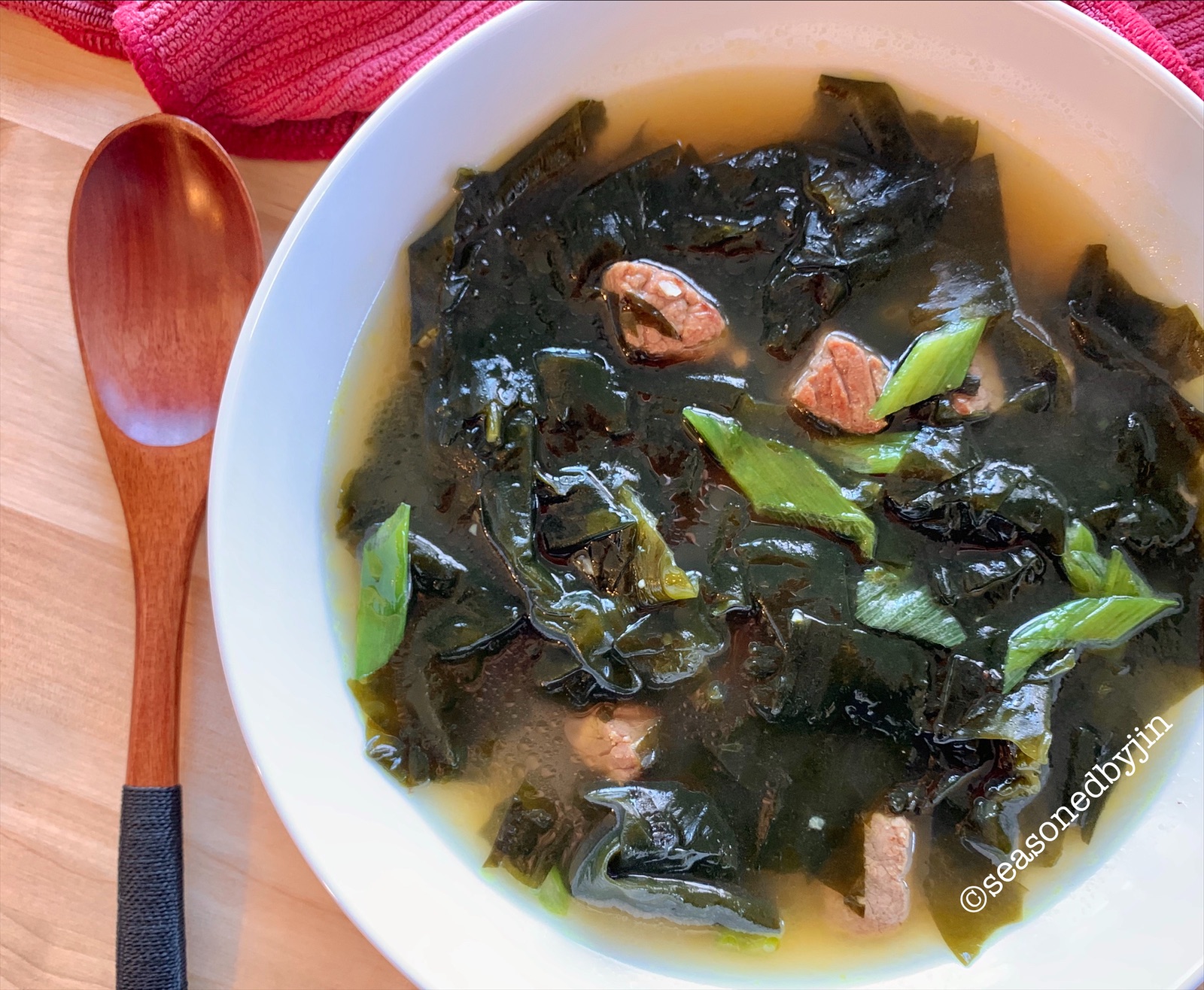 So If you want to try a healthy & tasty soup that can help heal the body and soul, how about giving Miyeokguk a try?
did you enjoy this recipe?
Be sure to check out more recipes below!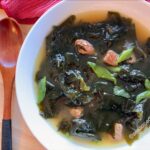 Print Recipe
Korean Seaweed Soup, Miyeokguk
Korean Seaweed Soup with Beef
Ingredients
1

tbsp

vegetable oil

3

cup

seaweed

wet seaweed, firmly pressed into cup

1

tsp

minced garlic

12

cup

water

1½

tbsp

Korean soup soy sauce (guk ganjang)

1

pinch

black pepper

2

stems

spring onion

cut 2" long
Meat & Meat Marinade
½

lbs

flat meat steak

1" cubed

½

tsp

sea salt

¼

tsp

black pepper

¼

tsp

garlic powder

1

tbsp

sake

½

tbsp

sesame oil
Instructions
Soak seaweed in cold water for 2-3 hours or until soft. Rinse and drain. Gently squeeze excess water and cut into bite size. Set aside.

Make meat marinade, set aside. Cut meat into bite size cubes and add the meat marinade to the meat. Work the seasoning into the meat and let it sit for 10-15min.

Heat a 8 qt. stock pot and add oil. Add the meat into the pot and cook for 2-3min on high. Add 1/2 tsp of garlic and cook for 30 seconds, stirring frequently.

Lower the heat to med-high heat and add the seaweed into the pot. Cook for 3-4min stirring frequently.

Pour water into the pot. Close the lid and boil on high heat for 20-25 min or until seaweed in tender.

Taste and season the soup. Add soy sauce and salt per your prefernce. Add the remainder of garlic and simmer 2-3min.

Turn off heat and add scallions and black pepper. Serve hot with a bowl of sticky rice and kimchi!
Share on Facebook
Pin Recipe
recent posts: