This Korean Spinach Side Dish is light, tasty, and super healthy! A great way to enjoy spinach, hands down!!
Growing up in Korea, I remember consuming a lot of vegetables, more than meat. They were affordable, stable side dishes for many Koreans. Even til this day, I admire many Korean home cooks who can transform simple ingredients, such as spinach, into a top-notch side dish on the dinner table! Perhaps it can even pass as a main dish! If you love greens, you need to give this popular Korean recipe a try!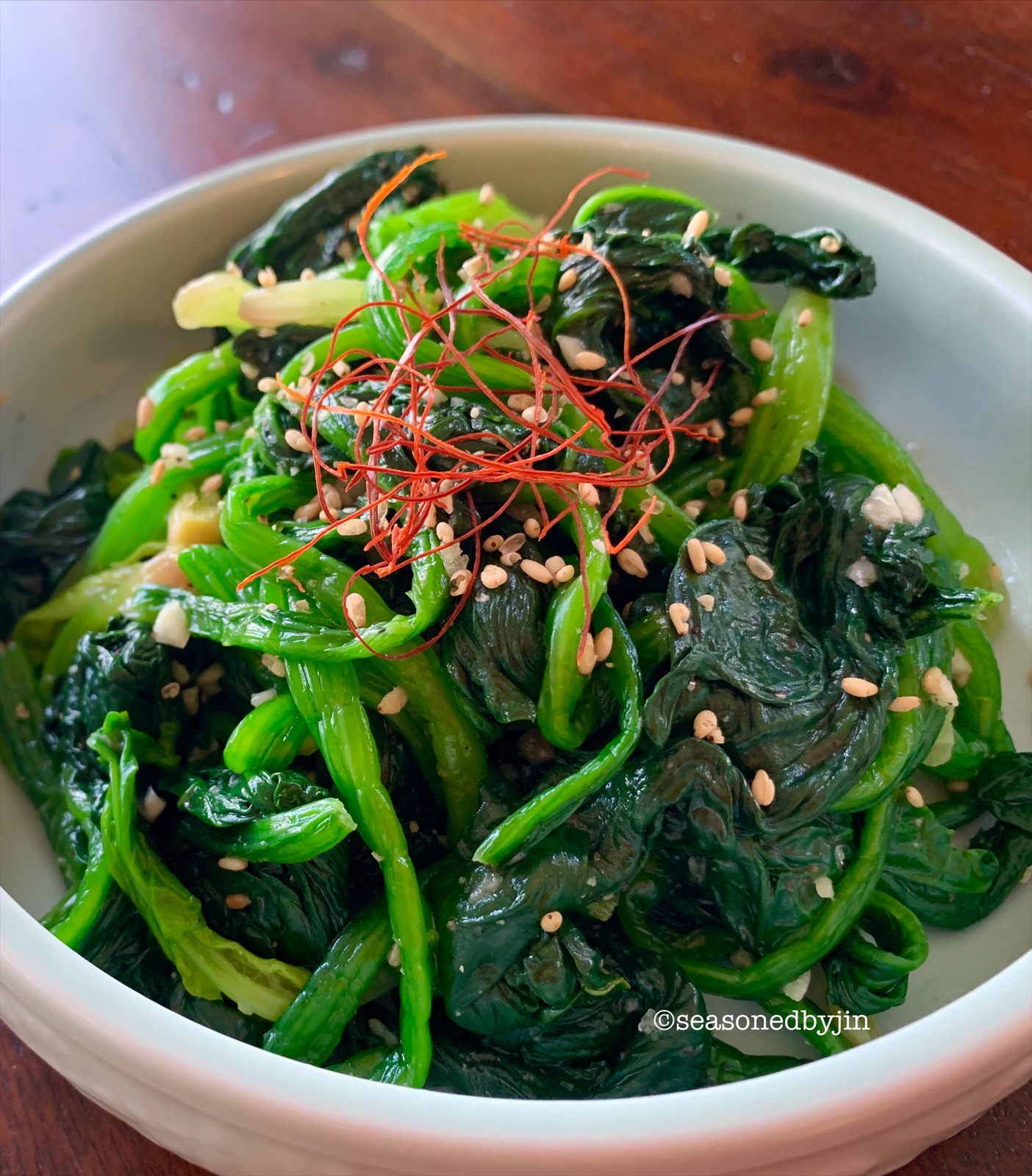 what is shigeumchi namul? banchan?
So today, let's talk about a dish called 'shigeumchi namul banchan'. Literal translation, shigeumchi=spinach, namul=grass, leaves, vegetables, banchan=side dish. In Korea there are so many different types of 'namul', I don't even think I can name all of them! Spinach/Shigeumchi Namul is one of the most popular namul, next to bean sprout. It can be eaten alone as a sidedish or combined into other main dishes, like bibimbop, kimbop or japchae to name a few.
how do you make shiguemchi namul?
Shigeumchi Namul banchan is made by blanching fresh spinach and then seasoned to bring out it's best flavor. It is typically enjoyed cold as a side dish and goes well with other Korean dishes. Spinach generally does not have much flavor, but when paired with the right seasonings, like fresh minced garlic, sesame oil, and little bit of salt, it totally changes everything! On top of that, when you bite into it's fresh, crunchy texture, it's a game changer I tell you!
First: Wash & trim the ends. Chop in half lengthwise.
Second: Blanch in salt water.
Third: Dunk in ice cold water to stop cooking process & bring out the color.
Fourth: Squeeze the water out and leave in strainer.
Fifth: Add seasoning & marinate.
Is there a proper way to marinate?
Most Koreans use this term called 'jo-mul jo-mul' when marinating food in general. It means to keep handlng with your hand carefully and gently. It's like a description of an action if you will but it's not a verb. LOL. Anyway, I usually like to use my thin disposable food gloves and gently work the seasonings into the spinach. As you can see in the photo, I am doing the up and down motion, sort of like tossing a salad. This helps in spreading out the seasonings evenly. I recommend tasting your spinach before adding the sesame oil. Once the oil is added, it's harder to taste the salt level.
how long does the namul last?
Shigeumchi namul tastes the best on the day it's made. You can keep it in the fridge for about 2 days during the warmer months and up to 3 days in the colder months. However, the more water content left in the spinach can also decrease it's freshness. My advise is to eat them fresh, within 2 days!! LOL.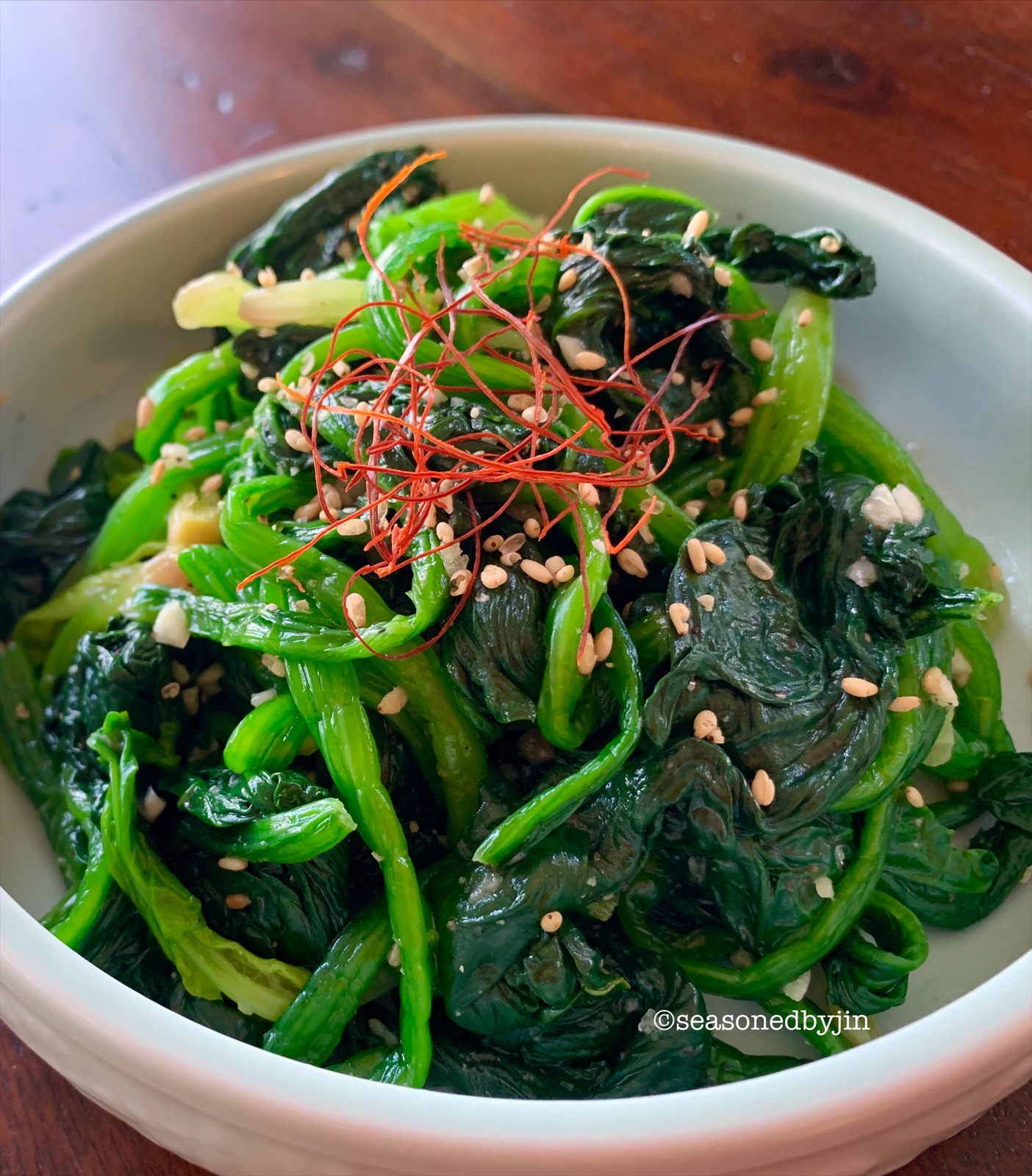 which type of spinach is used for this recipe?
For this recipe, I used Chinese Spinach. These are quite long lengthwise with huge leaves and thick stems. Hence it required more chopping and squeezing after blanching. These are also more tougher in texture and stronger in flavor than other spinach. If you plan to use the Korean spinach or baby spinach, you may cut back on the blanching time to 30 seconds and adjust the salt amount as well.
did you enjoy this shigeumchi namul recipe?
Be sure to check the list below for more delicious recipes!
Print Recipe
Korean Spinach Side Dish, Shigeumchi Namul
A tasty way to enjoy spinach by itself as a salad or as a side dish with other Korean cuisines. Very light, tasty, low calorie and healthy vegetable dish!
Ingredients
13

oz

Chinese Spinach

blanched

1

tsp

sea salt

for blanching

¾

tsp

sea salt

adjust to liking

1

pinch

black pepper

1

tbsp

garlic

minced

1

tsp

sesame oil

adjust to liking

1

tsp

sesame seeds
Instructions
Bring a pot of water to boil with 1 tsp salt.

Wash, drain and trim tip of spinach. Cut spinach about 3" long.

Prep a bowl with ice cold water ready.

Blanch spinach for about 45~50 seconds. Using tongs, quickly pick up the spinach and drop it into ice cold water. Let it sit in water until spinach feels cold to touch.

Drain the water and squeeze the spinach.

In a mixing bowl, add the spinach, salt and pepper and garlic and toss well with hand until all seasoning is well blended.

Add sesame oil and toss with hand gently.

Garnish with sasame seeds. Serve cold.
Share on Facebook
Pin Recipe