Korean Nokdu Jeon/pancake has been around for quite some time. It is a tasty little dish, as well as a healthy dish that is packed with protein power! The main ingredient in Nokdujeon is mung beans!! Mung beans have a subtle nutty flavor and complement nicely with meat, kimchi and other ingredients. There are many variations to nokdujeon, however, this is a simplified version that is quick and easy to make but still taste great!
what kind of prepping do you need?
You do have to soak the mung beans over night though. Otherwise, they will give off a strange raw, bitter taste when cooked. Best to soak the beans for at least 6-7 hours at room temperature. I also soaked the sweet rice grain in a separate bowl.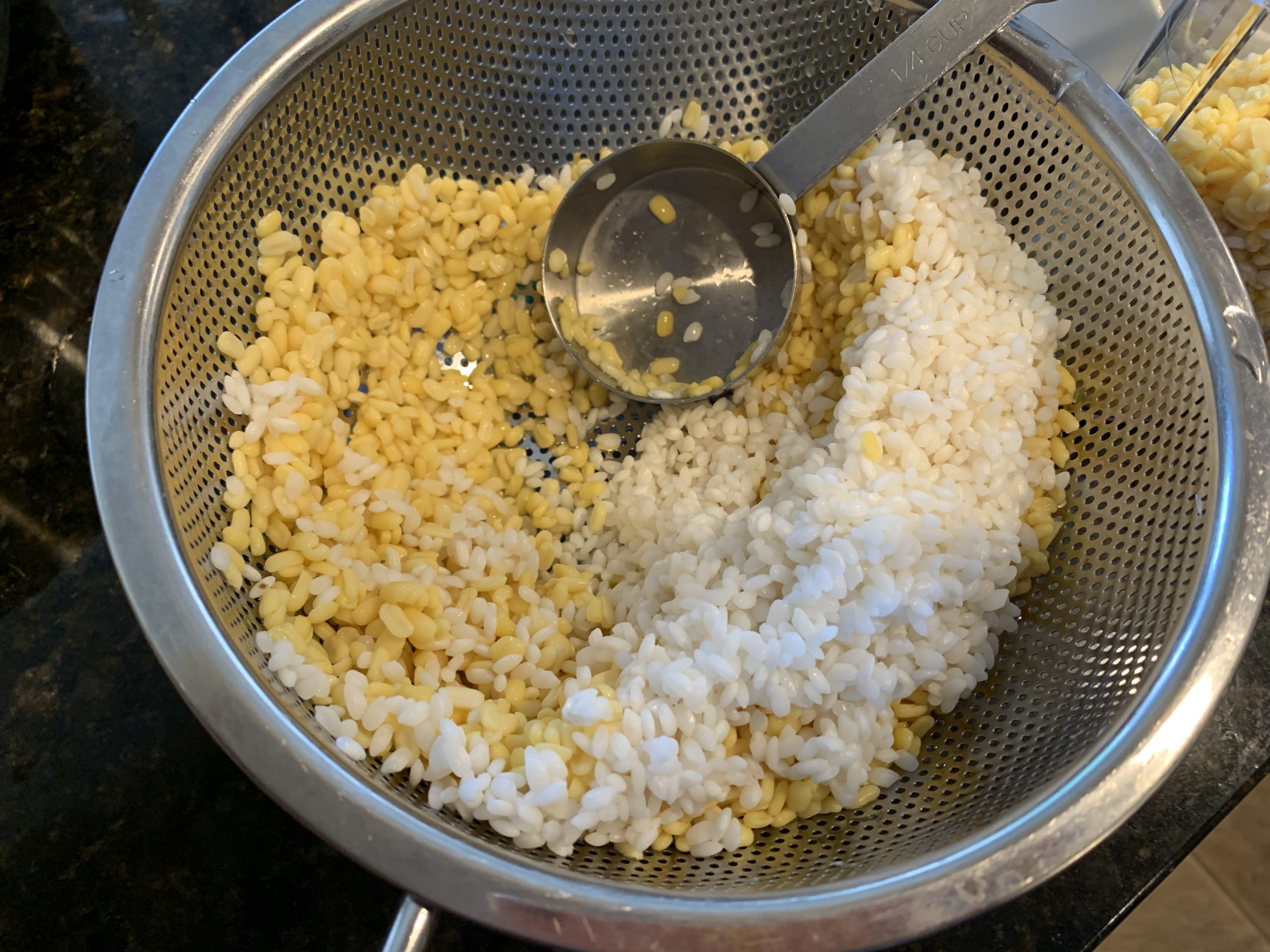 I used my upright mini processor to grind the beans and sweet rice together. Adding a Tablespoon or two of water helped with this process, otherwise the blade was getting stuck. This paste is quite thick!!
What goes into nokdujeon
Depending on your prefernce, the ingredients can vary but traditionally, pork meat is used for Nokdujeon with roots and vegetables. I remember my grandmother's version had pork, kimchi, bean sprouts, scallions and fernbrakes in her Nokdujeon. They were very tasty, but quite thick and more on the oily side. So from there, I tried to simplify the ingredients and make the jeon thinner and lighter. And guess what? This version is kid approved!
how do you cook nokdujeon?
For best results, make sure you have enough oil each time you cook and the heat should be set to low/medium depending on your pan. You want to create golden brown pancakes here that's thin and crisy. I ususally drop a half ladle full of batter into the pan and with a flat spoon gently flatten out the batter in circular motion without disturbing the round shape. It takes about 4-5 min on each side to cook so this will require some patience! But the result is definitely worthwhile!! You can eat this with or without any sauce. But If you have any choganjang handy, it will go great with these Nokdujeon.
Don't these look delicious?? They are thin, crispy and lighter version of traditional Nokdujeon, but just as good! The pork, kimchi and nuttiness from the beans with hint of spring onion– just perfect! Seriously my kids gobbled these up in matter of minutes! They can be quite addicting! LOL. Nokdujeon is best served hot fresh from the pan, but they also freeze very well. So go ahead, try making a batch for yourself at home! You might get addicted too!!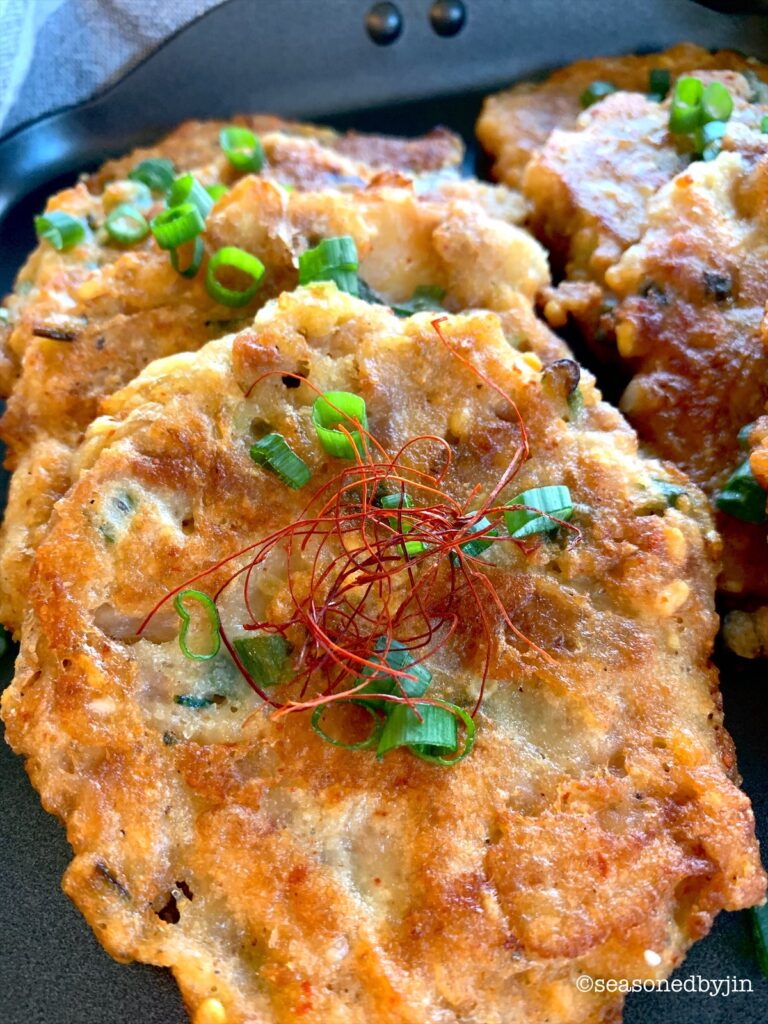 did you enjoy this korean nokdujeon recipe?
Be sure to check out below for more delicious recipes!!
Print Recipe
Korean Mung Bean Pancake/Nokdujeon
Ingredients
1

cup

mung beans

5

cup

water

for soaking mung beans

1/2

cup

sweet rice grain

3

cup

water

for soaking sweet rice

5

oz

pork

finely diced

1

tsp

garlic

finely minced

1

tsp

sake

1

cup

fermented kimchi

finely diced

⅓

cup

sweet rice flour

⅔

cup

water

add to sweet rice flour

1

tsp

salt

⅛

tsp

black pepper

4-5

tbsp

cooking oil
Instructions
Wash mung beans and soak in water over night. Wash sweet rice grain and soak in water over night. (or soak for 5-6 hours) Rinse and drain. Set aside.

Scoop mung beans and rice into the food grinder in small batches. If needed add 1-2 tbsp of water to loosen up the consistency before grinding each batch. Set aside.

Chop pork into bite size cubes. Add garlic, saki, pinch of salt, pinch of pepper. Mix well and set aside.

Chop kimchi into bite size cubes and chop spring onions. Set aside.

Combine ⅓ sweet rice flour with ⅔ cup water and make a slurry. Set aside.

Into a big mixing bowl combine the mung bean paste, pork, kimchi, spring onions, salt, garlic powder, black pepper and mix well. Pour sweet rice flour slurry and mix well.

Heat pan to low/medium high. Add oil to the pan. Drop the pancake batter into the pan, ½ ladle full at a time. Use a flat spoon to gently flatten the pancake in a circular motion.

Cook 4-5 min on each side until golden brown and crispy.

Yields about 11 pancakes. Best served hot!
Share on Facebook
Pin Recipe
recent posts: